AP PHOTOS: A look at flooding before and after Florence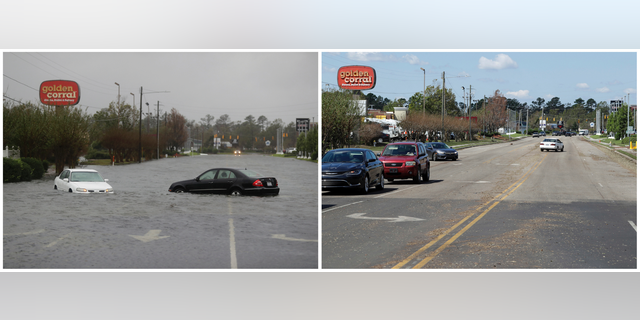 Florence dropped nearly 3 feet (1 meter) of rain on North Carolina as the storm moved slowly across the state, flooding towns, closing roads and killing dozens of people.
Tens of thousands were ordered to evacuate communities along North Carolina's steadily rising rivers. In New Bern, 4,300 homes were inundated, a third of the total number of homes in the city.
More than 1,000 search-and-rescue personnel with 36 helicopters and more than 200 boats were working in North Carolina, and the Defense Department assigned 13,500 military personnel to help relief efforts.
North Carolina Gov. Roy Cooper said 2,600 people and 300 animals had been rescued. The storm also closed 1,200 North Carolina roads, including 357 primary roads.
The Cape Fear River crested at 61.5 feet (18.75 meters) early Wednesday morning, according to the National Weather Service. More than 5 million gallons (19 million liters) of partially treated sewage spilled into the river after power went out at a treatment plant, officials said.
At Fayetteville, about 100 miles (160 kilometers) inland, near the Army's sprawling Fort Bragg, flooding from Cape Fear River got so bad that authorities closed a vehicle bridge after the water began touching girders supporting the span's top deck. Fayetteville Mayor Mitch Colvin said it was unclear if the bridge was threatened.