Antifa, left-wing anti-Trump protests nationwide turned out to be dud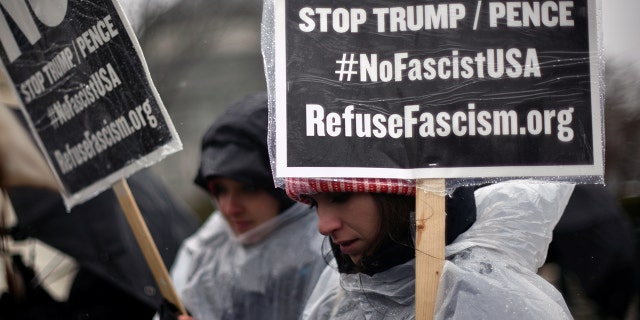 The left-wing plan to overthrow President Trump's "regime" with "continuous protest" in more than a dozen cities nationwide on Saturday was seemingly a dud -- but organizers claim it's only the start.
A Refuse Fascism spokesperson, Isabel Cardenas, said Saturday that Trump needs to be removed because he and his "regime" divide people and promote white supremacy, The Daily News reported.
The far left, so-called anti-fascism group had hoped for a million people in gatherings held in cities such as Seattle, Chicago, Los Angeles, San Francisco, Honolulu, Philadelphia, Austin, Portland, Boston and New York City. But it appears the group fell far short of its goal, with some cities attracting about 1,000 people and others only a handful of demonstrators.
And while there were initial fears of an "Antifa apocalypse," the day passed with only a few arrests and a lot of unused signs.
ANTIFA APOCALYPSE? ANARCHIST GROUP'S PLAN TO OVERTHROW TRUMP 'REGIME'
The group, which is affiliated with the Revolutionary Communist Party, said it has plans to keep the movement growing until Trump and his administration are driven out of office.
On Wednesday, the one year anniversary of Trump's election victory, Refuse Fascism is planning to collectively "scream at the sky helplessly."
"Together, we can scream with purpose and rouse a sleeping giant," the group wrote on Facebook.