Animals rescued from Florence floodwaters, after pets left behind or forgotten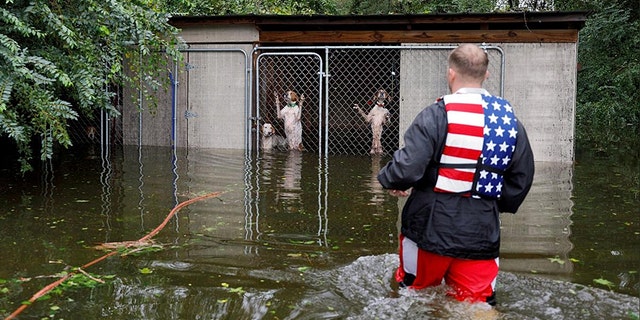 The rescuers plucking people from dangerous floodwaters spawned by Florence's assault on North Carolina are also discovering scores of neglected pets who were left behind or forgotten.
The Coast Guard said, as of Sunday, crews have rescued at least 91 pets in North Carolina since Florence -- then a hurricane and now a tropical depression -- began lashing the state with torrential rains. Helicopter crews alone are responsible for saving 20 pets, officials said.
In the town of Leland, located just outside of Wilmington, a group of volunteer rescuers on Sunday came across a group of dogs who were abandoned in a locked cage as floodwaters rose around them.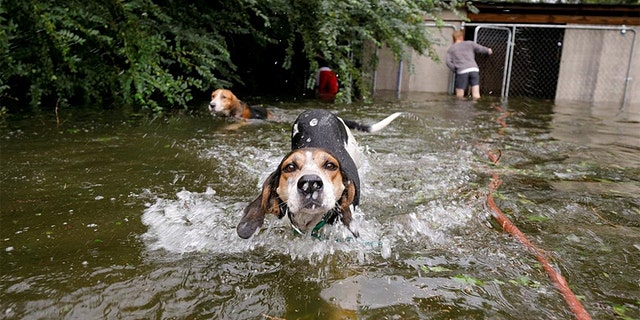 "Rescued six dogs in Leland, NC, after the owner LEFT THEM locked in an outdoor cage that filled with flood water that was rapidly rising," reporter Marcus DiPaola wrote on Twitter. "We got them out, but by the time we left, the water was so high that they would have drowned. BRING YOUR PETS WITH YOU!"
In a video that has since gone viral with more than 2.3 million views, the dogs can be seen crawling and squealing as they try to get out of the cage, then scampering for higher ground once they're let out.
Homes and businesses in the town have been ravaged by floodwaters that have risen up to 10 feet on Highway 17, according to Reuters.
FLORENCE DEATH TOLL AT 17 AFTER 3-MONTH-OLD DIES IN NORTH CAROLINA MOBILE HOME
Further west, Coast Guard crews rescued 10 beagles that were stranded by flooding near the town of Riegelwood. The dogs' howls echoed through the neighborhood as they swam and desperately tried to climb out of the water.
"If we would have gotten here just a few minutes later, I don't know if these guys would have made it," Coast Guard member Mitchell Moretti told USA Today.
The dog's owner, Josephine Horne, had originally evacuated but returned when it appeared the wind and rain had died down. Then, waist-high water inundated her trailer home.
"It looked like everything was fine. It was fine," she told USA Today. "It's like this came out of nowhere all at once."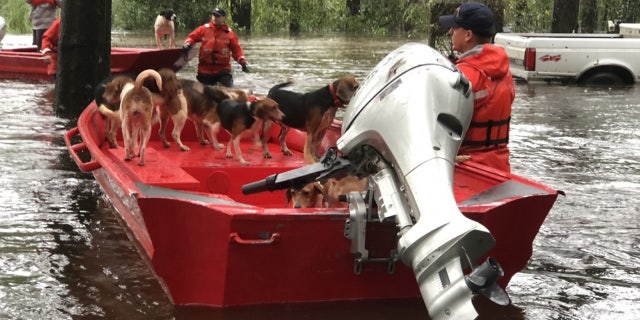 HUNDREDS STRANDED AFTER HURRICANE FLORENCE, WORSE IS YET TO COME, SAY OFFICIALS
At least 17 people have died, including a three-month old child, as Florence continues to dump heavy rain across North and South Carolina and spread into the Northeast. Forecasts are calling for rivers to reach record levels, and the city of Wilmington has been cut off.