Angry Catholic parishioner yells 'Shame on you!' to embattled Washington archbishop during Mass
An angry parishioner confronted the embattled archbishop of Washington as Cardinal Donald Wuerl asked Mass attendees on Sunday to pray for the pope and show loyalty to the Catholic Church amid the latest child sex abuse scandal.
Cellphone footage captured a parishioner interrupting Wuerl's post-Communion remarks Sunday at Annunciation Catholic Church.
"Shame on you," the man yelled before storming out.
Wuerl, who did not respond to the interruption, was asking parishioners to pray for Pope Francis as he deals with the scandal and asked them to forgive his own "errors in judgment" in handling the sexual abuse allegations while he was a bishop in Pittsburgh.
"Yes, my brothers and sisters, shame," Wuerl said. "I wish I could re-do everything over these 30 years as a bishop and each time get it always right. That's not the case. I do think together, asking for God's mercy, pleading for God's grace, recognizing that we can move into light, I simply ask you to keep me, keep all of those that have been abused, all of those who have suffered, all of the church in your prayers."
The cardinal is under fire for his mixed record of dealing with abusive priests while he was a bishop in Pennsylvania for 18 years.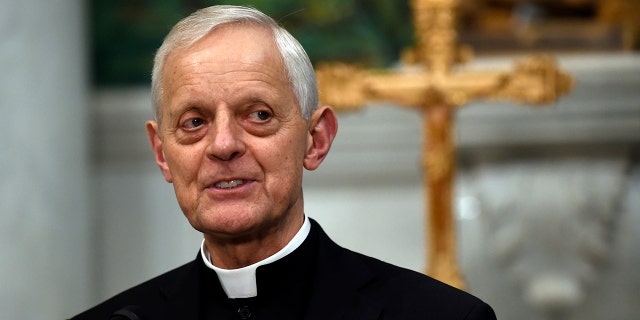 A Pennsylvania grand jury report accused Wuerl of allowing priests accused of sexually abusing children to be reassigned or reinstated. The report released last month documented abuse by 300 priests over the course of 70 years.
Since the report's release, Wuerl has faced escalating calls by Catholic survivors groups to resign. The calls grew more intense last week when a former Vatican ambassador to the United States, Archbishop Carlo Maria Vigano, published a letter accusing Wuerl of knowing about the alleged sexual misconduct committed by his predecessor in Washington, Cardinal Theodore McCarrick, the Washington Post reported.
McCarrick, who was suspended this summer, is accused of abusing two minors and young priests and seminarians. Wuerl has denied knowing any knowledge of the allegations against his predecessor.
In a statement, the Washington archdiocese acknowledged the dissenter and said Wuerl received "applause and expressions of support from parishioners."