Amtrak's deadliest crashes in recent years
A derailment, a vehicle or distracted pedestrian on the tracks, human and mechanical errors are just a few causes of deadly train crashes that have occurred in the U.S. in recent years.
Amtrak, which operates a nationwide rail network that serves an average of 85,700 passengers per day, has had a string of incidents in recent years. At least 26 Amtrak derailments were reported between 2014 and 2017.
Here's a look at some of Amtrak's deadliest accidents in recent years. Each of these train crashes killed at least two people on board.
Feb. 4, 2018 — 2 people killed
An Amtrak train collided and derailed with a CSX freight train in South Carolina just after 2:30 a.m., killing two Amtrak personnel and injuring at least 100 others, officials said. The Amtrak train was traveling between New York and Miami with approximately 139 passengers on board.
"It appears to me that the CSX train was on the track it was supposed to be on," South Carolina Gov. Henry McMaster said at a news conference following the incident. "It appears Amtrak was on the wrong track. That's what it appears to me."
But Amtrak President and Chief Executive Richard Anderson said CSX was responsible for the deadly collision."
"CSX had lined and padlocked the switch off the mainline to the siding, causing the collision," Anderson said in a statement.
CSX did not address Anderson's comments, but said it was working with federal investigators. The National Transportation Safety Board (NTSB) also said it was launching a "go team" to investigate the deadly crash.
Dec. 18, 2017 — 3 people killed
An inaugural ride on a new Amtrak line meant to speed train service in Washington state turned deadly.
The train, which was carrying more than 80 people, derailed outside of Tacoma — causing several train cars to tumble from a highway overpass. Three people were killed.
The NTSB said the train was going 80 mph in a 30 mph zone when it derailed along a curve.
The 55-year-old engineer at the controls of the train said he knew he needed to slow down, but didn't recall seeing any signposts or signals warning him of the slow curve ahead, according to a federal report.
The official investigation into the crash has not yet been concluded. It's expected to take between 12 to 24 months to complete, according to the NTSB.
June 24, 2011 — 6 people killed
A tractor-trailer driving on U.S. Route 95 in Nevada slammed into the side of an Amtrak train at a crossing roughly 70 miles east of Reno, killing six people and injuring 15.
The collision occurred because the driver, 43-year-old Lawrence Valli who was killed instantly in the crash, was "inattentive" behind the wheel and "delayed braking," NTSB investigators found. They also cited "the failure of John Davis Trucking to adequately maintain the brakes on the accident truck."
The train was traveling from Chicago to California.
June 23, 2014 — 3 people killed
An Amtrak train traveling at 125 mph slammed into a vehicle that apparently was driving on train tracks, killing all three passengers inside the car.
The crash derailed the train, which had 180 people onboard. Investigators said at the time that the trio may have been joyriding on the train tracks.
The accident unfolded in Mansfield, about 24 miles southwest of Boston.
May 12, 2015 — 8 people killed
An Amtrak train that was traveling at 106 mph — more than 50 mph speed limit — derailed in Philadelphia, killing eight people and injuring more than 200 others.
It was determined by the National Transportation Safety Board (NTSB) that Amtrak engineer Brandon Bostian was distracted during the ride and lost track of where he was before accelerating to 106 mph while turning into a sharp curve with a 50-mph speed limit.
Bostian didn't face criminal charges in the crash after investigators said they couldn't determine he acted with "with criminal 'intent' or criminal 'knowledge'" when the train derailed.
April 3, 2016 — 2 people killed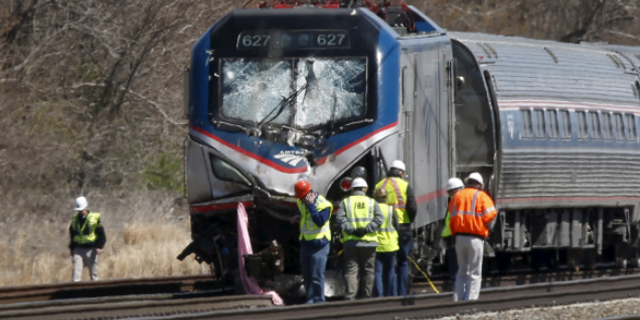 Two Amtrak maintenance employees in Chester, Pa., were killed in April 2016 after an Amtrak train traveling at more than 100 mph struck them. About 40 passengers aboard the train headed from New York City to Savannah, Ga., were injured.
The employees were working on a backhoe that was on the same track the train was traveling, the NTSB said.
Federal investigator Mike Hoepf noted that a foreman failed to make sure dispatchers were rerouting trains in an area that was undergoing repairs and blamed the crew's failure to use a device which would've blocked entry to those train tracks.
Fox News' Jennifer Earl and Katherine Lam contributed to this story.