Amtrak engineer in deadly wreck may have been distracted, official says
Federal investigators are looking into whether the Amtrak engineer operating a train which derailed and killed three people Monday morning in Washington state was distracted by an employee-in-training, an official told The Associated Press.
Investigators, according to the official, want to determine if the engineer lost "situational awareness" while operating the train during its inaugural ride because of the second person in the train car.
The train was traveling at 80 mph in a 30 mph zone on a new rail line early Monday in DuPont when it derailed and fell over onto Interstate 5 below, the National Transportation Safety Board (NTSB) said late Monday, citing data recorder information.
Of the train's 85 passengers, three people were killed and more than 70 others were injured in the derailment.
A NTSB member confirmed Tuesday night that both an engineer and a conductor who was "getting experience and familiarizing himself with the territory" were in the cab when the train crashed. She noted that the actual conductor of the train was in the passenger section when the accident occurred.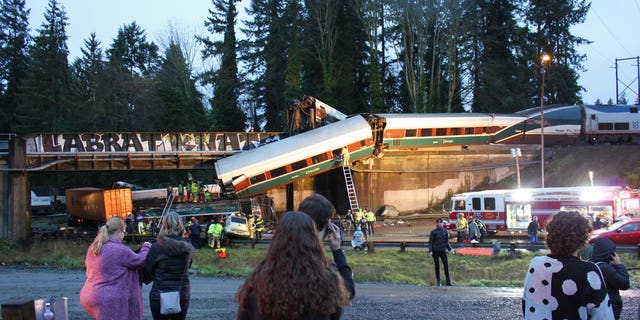 The unidentified train engineer was bleeding from the head after the derailment and his eyes were swollen shut, according to radio transmissions from a crew member. The transmissions mentioned a second person in the front of the train who was also hurt.
In previous transportation disasters, investigators have looked at whether the engineer was distracted or incapacitated.
More on the latest Amtrak derailment...
Investigators at this point haven't said what caused the derailment, and the NTSB said it's too early to determine why the locomotive was moving at such a fast speed.
Officials said that positive train control — technology that can automatically stop or slow down a speeding train — wasn't in use on the stretch of track where the derailment occurred because it wasn't completed.
Components of positive train control and track sensors had been previously installed, but wasn't scheduled to be completed until the spring, according to officials.
However, a NTSB member said it's still too early to say if positive train control would've prevented the accident.
The NTSB also added Tuesday that an event recorder from the derailment appears to show the emergency brake was automatically activated while the accident was occurring, rather than being initiated by the train's engineer.
Fox News' Ryan Gaydos and The Associated Press contributed to this report.