Amid new shootings, Chicago girds for yet another weekend of crime and violence
CHICAGO – Kenwon Parker would have turned 16 on Saturday. But instead of celebrating an important milestone in a young person's life, his friends and family are mourning his death.
Parker has become another sad reminder of the horrific crimes that play out almost every day in Chicago.
Parker was shot dead Thursday by a 13-year-old boy following a youth basketball tournament at Garfield Park field house on Chicago's West Side. A 14-year-old was wounded.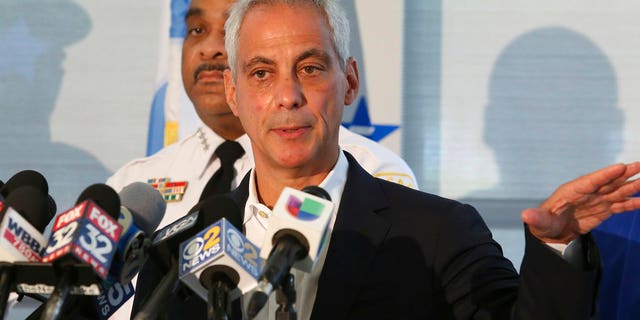 The 13-year-old has been charged with weapons violations. The boy, whom police have not publicly identified because he is a juvenile, has been charged with weapons violations, Chicago police said. He was charged Friday night and released into the custody of a parent or guardian, Officer Jose Jara said.
Across the city, news of shootings is coming in faster than police can even get to any given scene.
Indeed, on Friday night, as the city girded itself for another weekend of mayhem and bloodshed, a shooting left seven people hurt -- a 3-year-old boy among them.
The youngster was one of 25 people shot in Chicago over a span of roughly 14 hours from Friday afternoon to early Saturday. A 27-year-old man was killed after being shot in the chest and arm around 3pm Friday on Chicago's South Side, according to the Chicago Tribune.
Police say the child was hit in his left shin in the Englewood neighborhood on the South Side. He was transported to a children's hospital and was in stable condition Friday night.
"Today, a 3-year-old … part of a mass shooting … another mass shooting in Chicago. There's something that needs to be done."
RAHM EMANUEL UNDER INCREASING FIRE FOR LINKING CHICAGO VIOLENCE AND MORALS IN MINORITY NEIGHBORHOODS
Most of the people injured in the shootout were on a sidewalk when shots rang out.
Another victim, a 27-year-old man, was shot in the torso and taken to St. Bernard Hospital. His condition was unknown, police said. A third victim was taken by ambulance to the University of Chicago Medical Center, authorities said. His condition was also unknown.
Three more men, ages 26, 29 and 30, were also taken to St. Bernard Hospital, where their conditions stabilized. The 29-year-old was shot in the left calf while the 30-year-old was shot in his left leg. The youngest man was hit in the left hand and leg.
A 38-year-old woman standing in a nearby backyard was hit by a stray bullet. She was treated on the scene.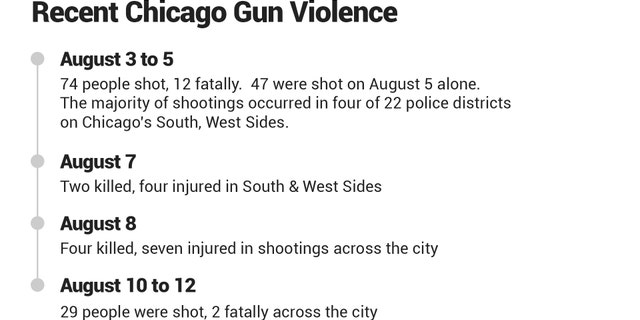 The episode only added to an already crime-filled Friday in the Windy City, as frustration continues to mount over the violence.
"Today, a 3-year-old … part of a mass shooting … another mass shooting in Chicago. There's something that needs to be done," victim advocate and pastor Donovan Price said.
On the West Side, a male between the ages of 15 and 17 shot himself in the head after a brief foot chase with police, Chicago police spokesman Anthony Gugliemi said.
Police say they spotted the teen with a weapon around 7 p.m. When officers tried to question him, he took off. He then shot himself.
Earlier in the day – hours before the sun rose – two people had been gunned down within 10 minutes of each other in downtown Chicago.
The first was a 20-year-old man who was shot in the abdomen on the fifth floor of a parking garage. He was taken to Northwestern Memorial Hospital and remained in critical condition. A person of interest was taken into custody less than a block away from the parking garage, according to police.
The second episode involved a 34-year-old man who drove himself to the hospital after being shot in the stomach on Wacker Drive in Chicago's famous Loop about 12:40 a.m.
There have been no arrests in the case.
Amid the surging violence and bloodshed, pressure has been building for action by Mayor Rahm Emanuel, or for his resignation. He came under fire this past week for comments linking the violence outbursts in his city and the moral character of people in some ethnic neighborhoods.
."This may not be politically correct," he said, "but I know the power of what faith and family can do. … Our kids need that structure. … I am asking … that we also don't shy away from a full discussion about the importance of family and faith helping to develop and nurture character, self-respect, a value system and a moral compass that allows kids to know good from bad and right from wrong."
Critics attacked him for laying blame on the victims of the violence.