Amid Gun Debate, Rifle Teams Soar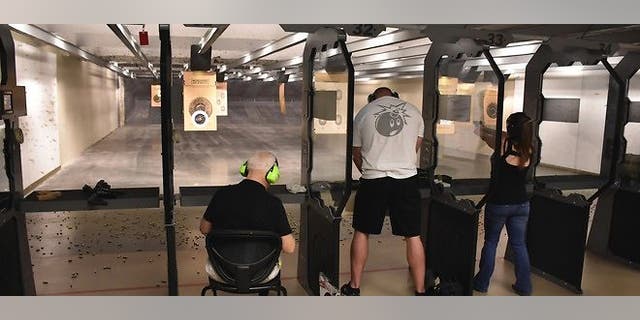 NEWYou can now listen to Fox News articles!
While a debate rages in America over guns and gun ownership, one group of younger Americans is happily marching on, perfecting their skills and competing for prizes using their shooting skills: high school students who participate in gun clubs.
Youth interest in the sport of shooting is going through the roof, said Thomas Ciarula, associate head coach for the Robinson Rifles. The Rifles are a club that competes in the Potomac High School Rifle League, an association of high school rifle teams in the Washington, D.C., metro area. Ciarula is also on the National Rifle Association National Coach Development staff.
"We have many, many more interested kids than we can handle (who are) interested in joining Robinson Rifle club," Ciarula told LifeZette. "We are just limited in how many we can take, due to range space and availability."
Robinson Rifle club members pay a small fee to join the club and are responsible for purchasing their own weapons, which can cost a few thousand dollars.
The team normally participates in seven small bore and eight air-rifle matches in the high school league, and in a regional championship in both during the regular season. The team goes to Junior Olympic Matches, Junior Sectionals Matches, Invitational Matches and other area matches.
"Shooting is a great sport because, unlike other sports, men and women compete equally," said Ciarula. "You can go all the way to the Olympics with this sport. And no one is left out. There are no try-outs. All are welcome as long as we have the space."
Up the coast, several Boston-area teens were asked their opinion of a gun club and whether they would participate if one were available in their public high school. Their answers were enthusiastic and unwavering: A gun club would be "wicked awesome," "so cool," and something they would definitely try.
Youth and guns have a proud shared history in America.
"Even in New York City, virtually every public high school had a shooting club up until 1969," wrote Charles C. Cook in nationalreviewonline.com. "It was common for high school students to take their guns with them to school on the subways in the morning and turn them over to their homeroom teacher or the gym coach so the heavy guns would simply be out of the way."
As recently as 1975, there were over 80 school districts with rifle teams in New York City. Today in Minnesota and in other areas of the country, gun clubs are still hugely popular and gaining devotees every year.
"It's been amazing, the response to our league," John Nelson, the vice president of the Minnesota State High School Clay Target League, told LifeZette. "In 2008, we had three teams and 30 kids involved. Today, we have 300 teams and over 11,000 kids participating. Kids were jumping the state border to participate."
To allow kids around the country to participate, Nelson and others have recently started the USA High School Clay Target League, a nonprofit that will serve students in all 50 states.
"Clay target shooting is both a co-ed and adaptive sport, so it includes all kids," said Nelson. "A kid in a wheelchair can participate if they want to."
The kids participate through off-campus gun clubs, but Nelson says the high schools are very supportive.
"The kids can letter in the sport, and the teams are included in the yearbook," he said. "We're helping to solve a big problem for schools as extracurricular budgets are slashed."
In 2009, the Minnesota State High School Clay Target League championship drew just 30 shooters, according to Bloomberg news. Last June at the same event, there were over 5,100 youth participants and more than 20,000 spectators.
Several gun manufacturers were highly visible and sponsored the event. They are wise to get involved: The National Shooting Sports Foundation estimates the average 16-year-old competitive shooter will spend $75,000 over their lifetime, according to Bloomberg.
Lindsay Martin, a senior last year at Glen Allen High School in Virginia, has Olympic dreams for her shooting. While still in high school, she joined The Dusters, a shooting club in Fort Lee, Virginia. Her father was her coach.
"People know me as the shotgun shooter," she told The Washington Times.
And what about after high school?
"At the NCAA level, men and women compete equally and shoulder to shoulder," said Ciarula. "There are currently about 38 colleges with rifle teams, and also pistol and shotgun teams at the NCAA level. Rifle, pistol and shotgun are also Olympic sports."
Since gun clubs involve guns, it might be reasonable to think that anti-gun advocacy groups are against kids and weapons.
But Ladd Everitt, director of communications for the Coalition to Stop Gun Violence, said there's nothing wrong with clay shooting.
"If students in high school enjoy that activity, God bless them," he told The Washington Times. "That's not something that's of any concern to us. That's supervised shooting, and that's the way to do it — with adults in a supervised session."
Said Ciarula, "It's always safety first with us; that's the very first concern. Learn to use the rifle properly and safely, and do your best in competition."
The following are competitive youth shooting programs, according to NSSF:
National 4-H Shooting Sports: This program focuses on developing youth as both individual and responsible and productive citizens.
The Scholastic Pistol program: Young people aged 12 through college are offered the chance to participate in team-based speed shooting on steel targets. This program is managed by the Scholastic Shooting Sports Foundation.
Scholastic Clay Target program: Kids in grade 12 and younger can compete as a team in trap, skeet, and sporting clay events.
NSSF's Boy Scouts of America Council Challenge Grant program: It encourages shooting events at local scouting chapters, and includes instruction in marksmanship skills, firearm and range safety, teamwork, and fundraising.
AIM: The youth program of the Amateur Trapshooting Association allows elementary through college-age kids to compete in individual or team events.
More from LifeZette.com:
Don't Be Hamstrung by Crippling College Debt
7 'Surefire' Ways to Her Heart: These Valentine's Day gifts could save a woman's life
Grandmother vs. Grandmother: A Shocking Rivalry
10 Significant Lenten Promises