Amber Alert issued for boy, 4, after his mom found dead in Texas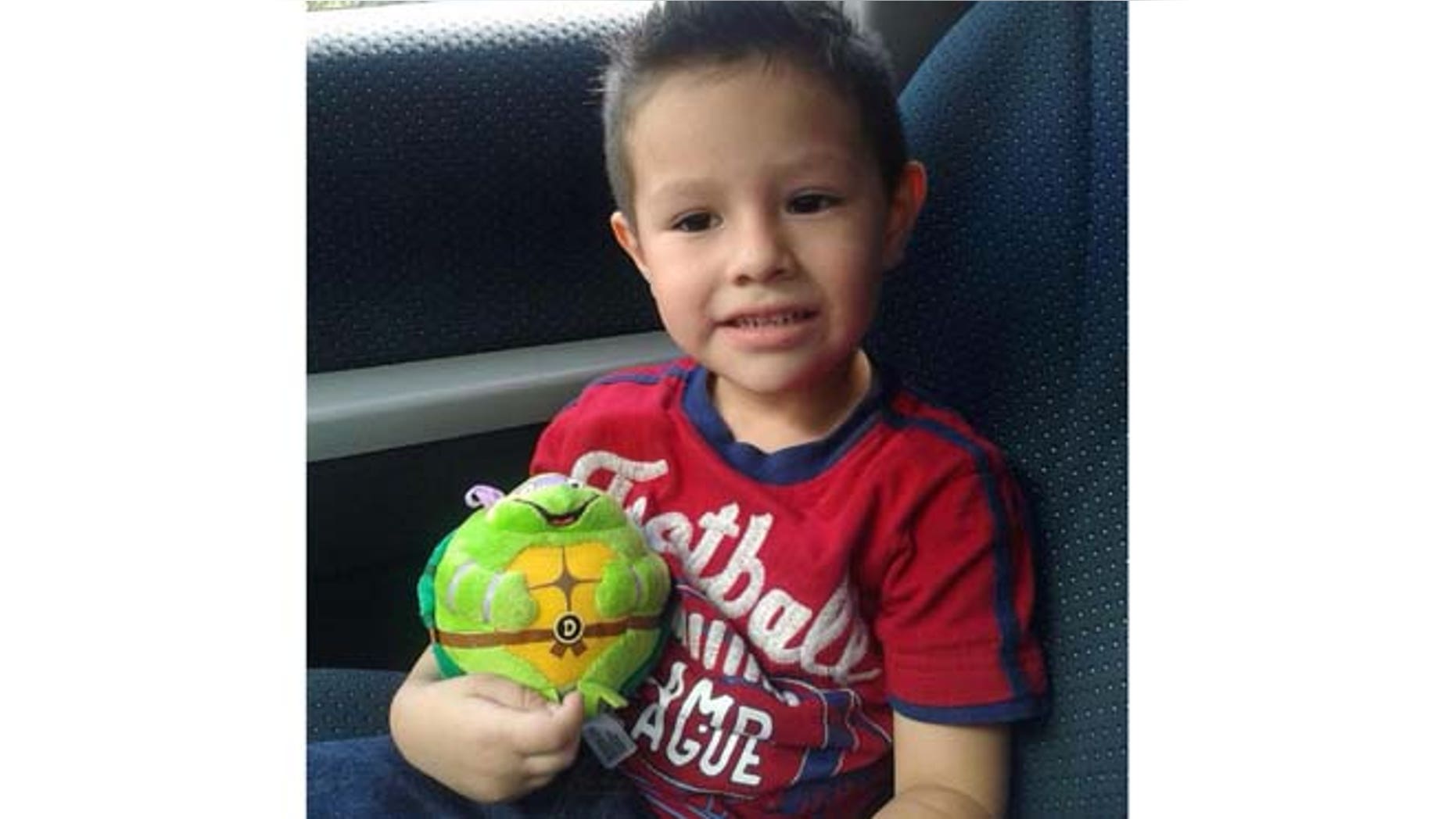 Police in Denton, Texas, issued an Amber Alert for a 4-year-old boy after finding his mother murdered inside an insurance agency Saturday.
According to MyFoxDFW, police are searching for the boy, Ricardo Alekzander Lara.
Denton police spokesman Shane Kizer said Lara's father, Ricardo Lara Martinez, is a person of interest in the homicide.
The boy's mother, identified as 27-year-old Maria Isabel Romero Medina, was discovered by an employee of the insurance agency.
The Dallas Morning News reported Sunday that the father may have abducted his son.
The paper quoted police as saying the boy's mother and father had been in a relationship but were no longer seeing each other.
Kizer told FoxNews.com Sunday that police were checking out several tips. One tipster reported seeing Martinez in Houston, wearing a blue shirt and shorts.
"We have been unable to verify that," Kizer said.
The officer said Martinez has ties to Missouri, Illinois and Mexico City.
"That is a lot of territory to cover," he said.
At 4:49 p.m. Saturday Denton police responded to a report of a dead person at the Sanchez insurance agency.
Kizer said investigators were called to the address by an insurance agency employee who found Medina's body inside. The employee said he had been contacted by a customer who was unable to get into the building during normal working hours.
The officer declined to reveal how Medina was killed.
She worked at the insurance agency as an employee and had gone to work Friday. On Friday afternoon she exchanged texts with a relative between 4 and 4:30 p.m.
Kizer said Medina was scheduled to open the insurance agency Saturday morning.
He said the child was last seen Friday. The boy stayed with a babysitter or family. The officer said it was not unusual for Medina to take her son to work, which is what could have happened Friday.
"Obviously this increases our concern for the welfare of the child," Kizer told FoxNews.com.
"The initial investigation shows this is an apparent homicide," Denton Police Officer Shane Kizer said.
The boy is 3 feet tall, weighs 55 pounds and has brown hair and brown eyes.
Police said the father is 5 feet 5 inches tall and about 150 pounds. He has brown hair and brown eyes.
Kizer said Martinez sold his car recently.