Amazon, primed to make 50,000 hires, holds multi-city job fair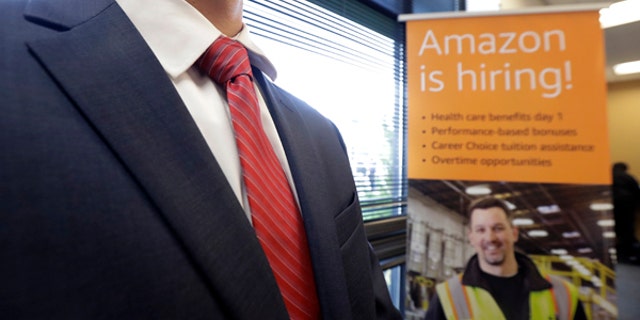 Thousands of people showed up Wednesday for a chance to pack and ship products to Amazon customers, as the e-commerce company held prime job fairs at nearly a dozen U.S. warehouses.
Amazon said it received "a record-breaking 20,000 applications" and hired thousands of people on the spot, and will hire more in the coming days. That number represented fewer than half of the 50,000 people it had said it planned to hire.
Most of the jobs are full-time positions in packing, sorting and shipping and will count toward Amazon's previously announced goal of adding 100,000 full-time workers by the middle of next year.
Although the wages offered will make it hard for some to make ends meet, many of the candidates were excited by the prospect of health insurance and other benefits, as well as advancement opportunities.
In Kenosha, Wisconsin, hundreds lines up outside of Amazon's fulfillment center, the Milwaukee Journal Sentinel reported. Amazon employees in orange shirts kept the long line of applicants occupied with snow cones and raffle tickets for Amazon-branded gear. Once registered, applicants could conduct interviews with recruiters. Pay for full-time jobs at Amazon's fulfillment center in Kenosha ranges from $12.25 to $13.25, the company's website says. Part-time positions start at $11.75 per hour.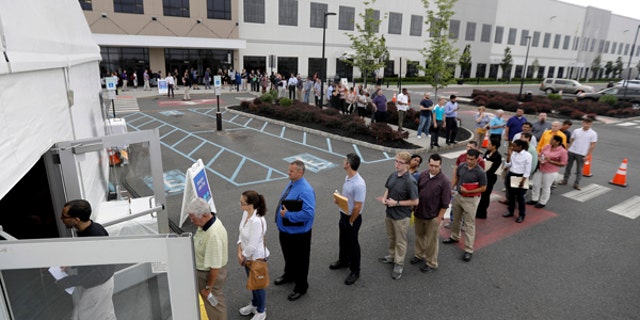 The job-seekers, who included college students and parents, said they were drawn to Amazon for the pay, flexible hours, benefits and the company's upward trajectory.
"I've seen it on the news — it's a great opportunity for a lot of residents in Wisconsin to gain employment," Krystal Brown, a mother of four who hopes to land a job with regular hours, told the newspaper, adding that the benefits and hours are worth a 30-minute commute from her home in Milwaukee.
The Amazon fulfillment center in Robbinsville, New Jersey, also saw job-seekers coming out in droves for the opportunity to work for the online retail giant.
"I have two jobs and it's very trying," Paula Vahala of Watchung told MyCentralJersey.com. "Amazon is a good company. It's offering full time and benefits, and that's something I don't have right now. I really am so excited to be here and so thankful that I could come today."
The line was said to extend to the length of the Mercer County Fulfillment Center, which is the size of about 28 football fields.
"The line was about 100 yards long, but it seems to be moving quickly," Joe Renella told the news site while waiting on line. "It beats job searching online and then playing solitaire the rest of the day."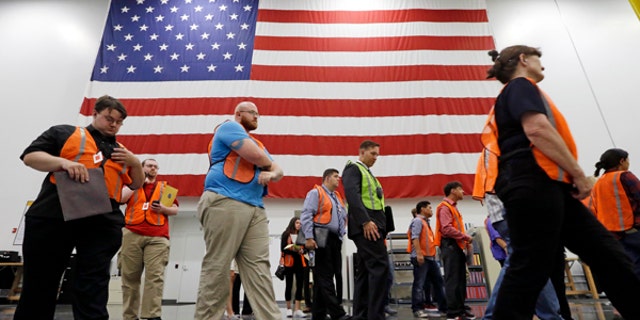 It's common for Amazon to ramp up its shipping center staff in August to prepare for holiday shopping. But the magnitude of its current hiring spree underscores Amazon's growth when traditional retailers are closing stores — and blaming Amazon for a shift to buying goods online.
The bad news is that more people are likely to lose jobs in stores than get jobs in warehouses, said Anthony Carnevale, director of Georgetown University's Center on Education and the Workforce, told the Associated Press.
On the flip side, Amazon's warehouse jobs provide "decent and competitive" wages and could help build skills.
"Interpersonal teamwork, problem solving, critical thinking, all that stuff goes on in these warehouses," Carnevale said. "They're serious entry-level jobs for a lot of young people, even those who are still making their way through school."
At one warehouse — Amazon calls them "fulfillment centers" — in Fall River, Massachusetts, Amazon was looking to hire more than 200 people Wednesday, adding to a workforce of about 1,500. Employees there focus on sorting, labeling and shipping what the company calls "non-sortable" items — big products such as shovels, kayaks, surfboards, grills, car seats — and lots of giant diaper boxes. Other warehouses are focused on smaller products.
While Amazon has attracted attention for deploying robots at some of its warehouses, experts said it could take a while before automation begins to seriously bite into its growing labor force.
"When it comes to dexterity, machines aren't really great at it," said Jason Roberts, head of technology and analytics for mass recruiter Randstad Sourceright, which is not working with Amazon on its jobs fair. "The picker-packer role is something humans do way better than machines right now."
Steve King, 47, a job candidate in Fall River with experience running his own business, agreed: "I don't think robots are up to snuff yet. I think they will be."
"Hopefully I can get in before the robots get that good and get above the robots in administration or something."
The Associated Press contributed to this story.