Amazon building collapses during tornado in Maryland, leaving 2 dead
Two men were killed after part of an Amazon distribution warehouse collapsed as a tornado tore through Maryland's largest city on Friday, officials said.
The Baltimore City Fire Department identified the men on Saturday as Andrew Lindsay, 54, and Israel Espana Argote. No age was provided for Argote.
The National Weather Service said that an EF-1 tornado touched down along the Baltimore City and Baltimore County line at 9:42 p.m. Friday before traveling two and a half miles.
The tornado was estimated to have peak winds of 105 mph, and a maximum width of 150 yards, according to the NWS. It was the first fatal tornado in Maryland in 16 years, WJZ-TV reported.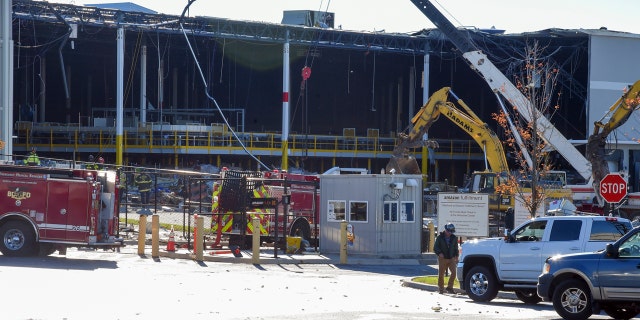 Severe storm damage was reported in the industrial complex where the tornado touched down, including blown over trucks and uprooted trees.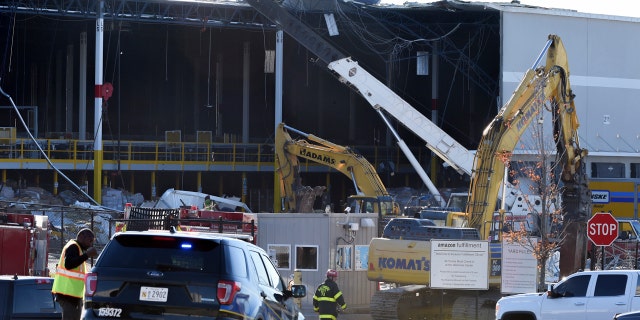 At the Amazon facility, the roof was blown off the building and a 50-foot concrete wall collapsed into the structure, killing the two men inside.
3 GIRL SCOUTS, WOMAN KILLED IN WISCONSIN HIT-AND-RUN CRASH
In a statement to FOX Baltimore, an Amazon spokesperson said the two men were third-party contractors and not Amazon employees. No other injuries were reported when the severe storms tore through the region.
"The safety of our employees and contractors is our top priority and at this time the building remains closed," the statement said. "We are incredibly thankful for the quick response from emergency services. Our thoughts and prayers go out to the families impacted by Friday evening's tragic event."
The National Weather Service had earlier warned of thunderstorms in the area, with some producing gusty winds and heavy rain.
The Associated Press contributed to this report.