Alligator visits Florida school campus, is taken away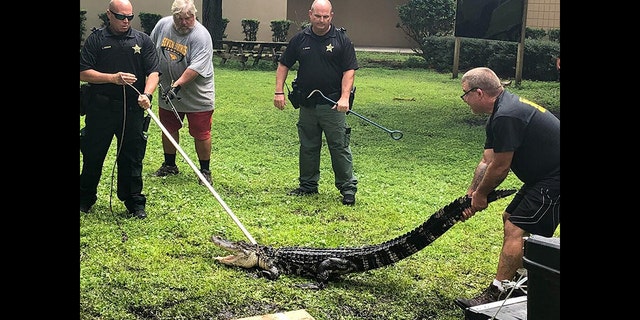 This reptile won't be joining the student body anytime soon.
The Facebook page for Pasco County Schools in Pasco County, Florida, on Thursday shared a snap of an alligator being removed from school property.
"School resource officers from Seven Springs Middle School and Mitchell High School assist a trapper who removed the gator from the center of the Seven Springs campus this morning," the district captioned the snap. "No students came within 100 yards of the gator."
District officials added, "Who has the best caption for the photo?"
The post has received more than 490 reactions, 210 comments and 500 shares as of Sunday afternoon.
SOUTH CAROLINA FIREFIGHTERS PRAISED FOR RESCUING 'EXHAUSTED' HUMMINGBIRD
"Everyone needs to get an education," a Facebook user quipped.
Another person joked, "Just when you thought all you had to fear at school was the teachers "
One commenter said, "Another angry parent detained!"
And someone else asked, "'See you later alligator?'"