Alleged MS-13 kingpin of East Coast operations 'Reaper' facing murder, drug charges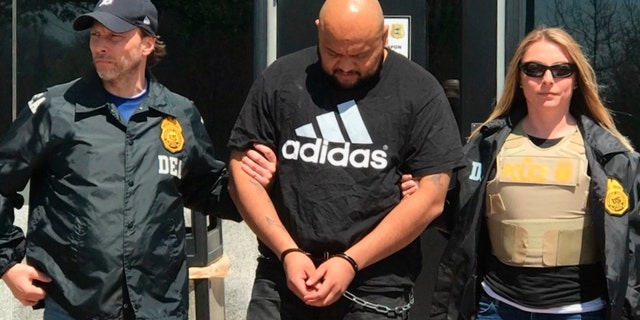 NEWYou can now listen to Fox News articles!
The alleged crime boss of the notorious MS-13 gang in charge of operations across the East Coast will answer to murder and drug trafficking charges in New York.
Prosecutors said Thursday that Miguel Angel Corea Diaz – whose street name was "Reaper" – was extradited from Maryland and held without bail after an arraignment on Long Island, where authorities blame MS-13 for a wave of violence that's left dozens dead.
Corea Diaz, who was jailed in Marlyand on local felony drug charges, was included as one of the 17 suspects previously cited in a 21-count indictment by Nassau County.
Prosecutors said Corea Diaz allegedly ordered beatings and killings as well as directed the gang's drug operations in New York, New Jersey, Maryland and Texas. He has been referred to as the "alleged kingpin of MS-13 for the entire Eastern region of the United States."
In 2017, Corea Diaz, 35, directed two of the other defendants to kill a rival in Elizabeth, New Jersey. There's evidence that the defendants discussed where to dispose the victim's body and how deep to dig the hole before law enforcement thwarted them, Nassau County prosecutors said.
Law enforcement officials have said MS-13 is the largest gang in Long Island and has thousands of members across the country. The majority of the gang members are Central American immigrants.
The Department of Homeland Security recently revealed that dozens of gang members, some of whom belong to MS-13, were shielded from deportation and released due to "sanctuary" policies last year.
From October 2016 to June 2017, sanctuary jurisdictions refused to honor Immigration and Customs Enforcement [ICE] detainers on 142 suspected gang members. The DHS said the numbers may also be on the conservative side as jurisdictions that do not allow officials into jails make it more challenging to identify gang members.
Fox News' Adam Shaw and the Associated Press contributed to this report.