Alaska man faces fine, jail time for allegedly feeding moose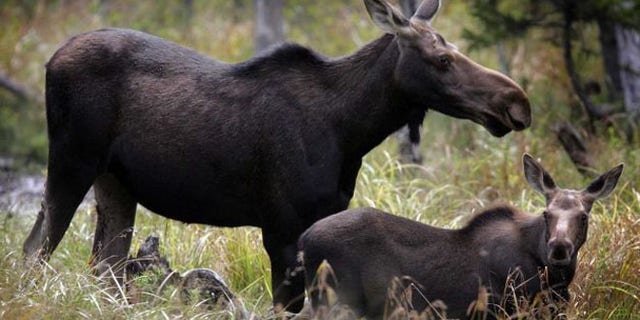 NEWYou can now listen to Fox News articles!
ANCHORAGE, Alaska – An Anchorage man is accused of illegally feeding cabbage to multiple moose on his property, according to Alaska State Troopers.
Troopers received a tip last month that 67-year-old Samuel Becker had been feeding moose. They said they responded Jan. 4 and determined Becker had illegally fed the animals the day of their visit.
Becker was issued a summons to appear in court Feb. 3 to face a misdemeanor charge of intentionally feeding game, troopers spokeswoman Megan Peters said Friday.
The misdemeanor carries a maximum penalty of one year in jail and a $10,000 fine, she said. State prosecutors have not filed charges.
Authorities say feeding wild game like moose, which can easily top 1,000 pounds, puts people at great risk of injury or worse.
"Even if they don't attack you, your presence around them could agitate them, and it could make it more dangerous for somebody else passing by that might not even know the moose is standing there," Peters said.
Contacted Thursday at his property in a heavily wooded neighborhood in the city's Hillside area, Becker declined to discuss the case, saying he didn't want the matter blown out of proportion.
State wildlife biologist Jessy Coltrane believes moose-feeding has been an ongoing problem in the neighborhood, where numerous moose were reported loitering and approaching people last year.
The latest case came from a tip sent to the Alaska Department of Fish and Game's general email account in December that was forwarded to troopers.
Cases of intentionally feeding wildlife are not unheard of. But far more common is negligent feeding of wildlife, such as when animals get into trash that has been left out. With negligent feeding, moose can get into something their digestive systems can't handle, such as plastic bags, which can kill the animals. Negligent feeding can result in $310 citations.
Coltrane said people who intentionally feed wildlife are probably doing it with good intentions, hoping to supplement the animals' winter diets. For some, it could be akin to feeding birds.
"It's the same mentality," Coltrane said. "It just translates into larger animals that have the potential to be dangerous when fed."
Moose can become aggressive when they've been fed by people and expect a handout from others, she said.
Intentional or negligent feeding can lead to such aggressive behavior that the animals have to be shot, Coltrane said. On Christmas Eve, for example, a state biologist had to kill a moose that was defending its garbage stash, charging people, Coltrane said.
Moose aren't the only massive animals to be intentionally fed in Alaska.
In 2010, an Anchorage man who admitted illegally feeding bears at his remote Yentna River cabin was fined $20,000 after he pleaded guilty to charges of illegally feeding game. Charlie Vandergaw, a retired Anchorage school teacher, has said he coexisted with black and grizzly bears at his cabin property for 20 years.