Alabama man charged in child's death tells judge to 'kill me'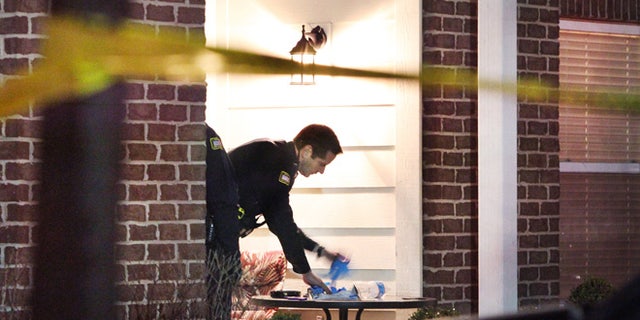 NOBLESVILLE, Ind. – An Alabama man accused of fatally stabbing his 2-year-old son wailed, banged his head on a table and asked a central Indiana judge for a rope during his initial court appearance Thursday.
Micah William Harrison, 30, of Robertsdale, Ala., feared someone was trying to kill him Wednesday when he fatally stabbed his 2-year-old son, Michael, in the chest with a kitchen knife and in the forehead with a nail-pulling tool, Noblesville police said in a probable cause affidavit.
A distraught Harrison appeared on a video link from the Hamilton County Jail during Thursday's appearance on a murder charge in Hamilton Superior Court.
When Magistrate David Najjar read him his rights, Harrison said, "What about a right to a rope?"
"I killed my poor little baby. Please kill me," Harrison begged.
Najjar entered a not guilty plea on Harrison's behalf and appointed an attorney for him. He also ordered Harrison held without bond in the jail pending a March 12 trial date. A jail officer said Harrison already was on suicide watch before the court hearing.
Harrison had to be removed from the jail's hearing room for about 30 minutes before his appearance because he scuffled with deputies. When he was brought back, he was shackled and guarded by four deputies.
Dan Henke, the lawyer appointed to represent Harrison, did not return a phone call seeking comment Thursday.
Hamilton County Prosecutor Lee Buckingham said he will consider seeking life without parole for Harrison, who had driven from Alabama with his three children Tuesday to visit his parents in Noblesville, about 15 miles north of Indianapolis. The child's mother stayed home in Alabama, according to court documents.
Noblesville Police Detective Michael Sadler said in a probable cause affidavit that officers found the toddler with two knife-stab wounds to his chest and one stab wound from a nail puller in the forehead. Medics pronounced the boy dead Wednesday afternoon at the family's apartment.
The boy's grandmother, Pamela Harrison, told officers that "Micah stated that someone or something was trying to kill him" and that he hit a closet with a hammer, which she took from him, telling the man no one was there.
After she hid the hammer in a bedroom, she saw her son "moving quickly from the kitchen to the other bedroom where she knew Michael was playing." She found her son atop the boy, who was lying on the floor, and watched him stab Michael with the knife.
"Pamela took the knife from Micah and told Micah that he had just killed his son," Sadler wrote.
The first officer on the scene found Harrison with blood on his hands, the affidavit said.
Pamela Harrison told officers her son had driven from Alabama with Micah and two daughters, ages 4 and 5, on Tuesday.
The children's mother, Megan C. Kelley, 25, said in court documents filed Wednesday in Alabama that Harrison had taken the children to Indiana without permission. In documents seeking custody of the children, Kelley said Harrison was "not stable, can't read or write and has a very extensive criminal history."
Indiana Department of Child Services spokeswoman Stephanie McFarland said she could not say if the girls were in state custody due to confidentiality laws, but she did say the agency was involved.