Air Force planes again ready for fire missions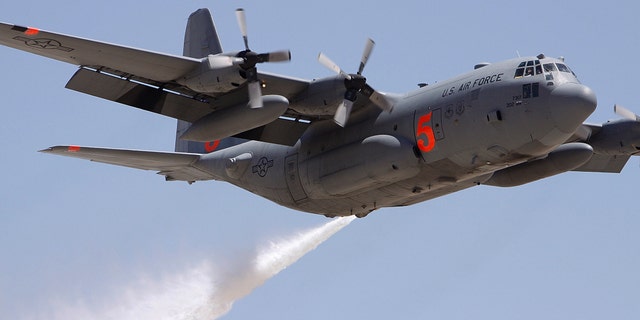 DENVER – Air Force tanker planes returned to the flight line for firefighting missions on Tuesday after a deadly weekend crash, bringing much-needed reinforcements to a strained fleet battling some of the worst wildfires in decades.
The return of five C-130s means wildfire managers now have 19 heavy tankers to battle the huge fires that have burned hundreds of square miles and displaced thousands of people across the West.
One wildfire in Montana has charred more than 290 square miles and burned 16 homes. The fire was 55 percent contained.
The most active part of the fire was burning thick, largely inaccessible timber on the Custer National Forest. That has led firefighters to steer clear of the dangerous forward edge of the blaze, fire information officer Kathy Bushnell said.
In Wyoming, erratic winds have spread a wildfire across 128 square miles in a sparsely populated area since it started June 27. It was only 10 percent contained.
"We've had this fire push north, push south, push east and push west at various times," fire spokesman Jim Whittington said.
The Air Force had sidelined its seven remaining firefighting C-130s to review safety procedures after a C-130 from the North Carolina National Guard crashed Sunday, killing four crew members and injuring the other two.
The plane was helping fight a wildfire in the Black Hills of South Dakota.
The cause is under investigation.
The National Guard identified the dead as Lt. Col. Paul K. Mikeal, 42, and Maj. Joseph M. McCormick, 36, both pilots; Maj. Ryan S. David, 35, a navigator; and Senior Master Sgt. Robert S. Cannon, 50, a flight engineer. All were from North Carolina and were assigned to the 145th Airlift Wing.
The injured crew members' names and conditions were not released.
Five of the remaining C-130s were ready to fly firefighting sorties from Peterson Air Force Base in Colorado Springs on Tuesday. A sixth was expected to be available on Wednesday. None had been sent on any missions by Tuesday afternoon.
The seventh, which was also assigned to the North Carolina Air National Guard, returned to its home base in Charlotte.
Meanwhile, the U.S. Forest Service hoped to add three "next generation tankers" — British-made BAe-146 aircraft — to its fleet of fire-suppressing aircraft by August, with another four similar aircraft due to be available by the summer of 2013, said spokeswoman Jennifer Jones in Boise.
The decision to suspend the Air Force's C-130 flights left just 14 federally contracted heavy tankers in use during one of the most destructive wildfire seasons ever to hit the West.
The National Interagency Fire Center in Boise, Idaho, which coordinates wildfire-fighting efforts nationwide, said 45 large fires were burning on Tuesday, including 36 fires in nine Western states. In Colorado alone, three fires have destroyed more than 600 homes and killed six residents.
The C-130s can be called into firefighting duty if all the civilian heavy tankers are in use or unavailable. The C-130s are loaded with a system of pressurized tanks and pumps that can drop 3,000 gallons of water or fire retardant within seconds.
Sunday's crash was the first for an Air Force C-130 on firefighting duty since the program started in the 1970s, said Jennifer Jones, a spokeswoman for national fire center.
A privately owned civilian version of an older C-130 crashed in California in 2002, killing three crew members. The crash helped prompt a review of large U.S. air tankers and led ultimately to a greatly reduced fleet of civilian planes.
Another firefighting plane, the Lockheed P2V, has had problems in recent months. One crashed in Utah, killing the two pilots, and another one crash-landed in Nevada. Neither crash grounded the other eight P2Vs in the fleet.
Experts have warned for years that a safety concern that grounded a single model of plane could kept a large number of tankers from flying, said Bill Gabbert, a veteran firefighter and author of the Wildfire Today blog.
"When you put all your eggs in one basket, you ground 90 percent of those eggs, you can have a problem," Gabbert said.
Secretary of Agriculture Tom Vilsack, whose department includes the U.S. Forest Service, said heavy tankers are only part of the firefighting air force.
"It's not just about tankers. It's about helicopters, fixed-wing aircraft, a combination of assets," Vilsack said during a visit to the Idaho fire center Tuesday.
___
Associated Press writers Mead Gruver and Ben Neary in Cheyenne, Wyo., Matthew Brown in Billings, Mont., Michael Biesecker in Raleigh, N.C., and John Miller in Boise, Idaho, contributed to this report.