Air Force gives Gold Star families access to bases with new ID program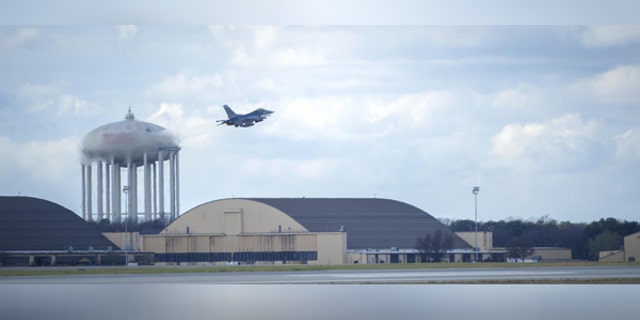 The Air Force is the latest branch of the U.S. military to offer Gold Star families access to bases across the country.
Immediate family members of fallen military service members are now eligible to receive long-term access cards in a program that was started this month, according to Military.com.
"The chief of staff of the Air Force expressed consideration for more outreach to Gold Star families so they know they will always be part of the Air Force family," Brooke Brzozowske, an Air Force spokesperson, said to the website.
"These families have had access to and have received long-term care and support through the Air Force Families Forever program located with Airman and Family Readiness Centers," she added. "The base access cards will make it easier to access support services, attend ceremonies and events."
Before the program was instituted, Gold Star Family members were required to be escorted on Air Force bases by a current ID card holder -- despite the presence of survivor services programs that were designed for them.
Gold Star mother Sherry Wyatt of Columbia, Missouri, says that she could have used this program in the summer of 2015 when she attended a Blue Angels event at Whiteman AFB where her son, Army Staff Sgt. Sterling William Wyatt, was being honored after he was killed by an IED while serving in Afghanistan.
"They were honoring our son, but we had to be escorted onto the base by his captain. He had to sponsor us," Wyatt said to Fox News. "Had that not been the case, we would have had problems getting in for our own son's ceremony."
Officials say that the ID cards are for base access only and not for entrance into medical facilities, commissary services or Morale, Welfare, Recreation (MWR) activities. Also, all card applicants are subject to a background check before the ID cards are issued.
No word on whether the program benefits will be expanded at a future date.
The Gold Star Access ID program is an addition to the already established Dependent ID card system, which is issued to widows and children.
According officials that spoke with Military.com, both the Army and Navy have had similar programs in place since 2014 and have issued nearly 600 ID cards.
The Air Force's program began at Joint Base Andrews in Maryland on May 1 and was then implemented nationwide on May 15.
"It's great when any program is created that benefits Gold Star Families," Jim Frazier, whose son Jacob served in the Air Force, said to Fox News. His son was ambushed in a firefight while in Afghanistan back in 2003.
"It also recognizes those who are fallen and those they left behind and that's important," he added. "I'm glad that the Air Force is finally starting a program like this."