Agency Boss Suspends Sleeping Air Traffic Controller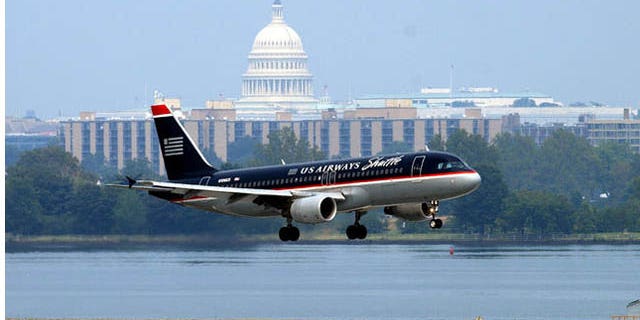 The nation's top aviation official says he has suspended a control tower supervisor while investigating why no controller was available to aid two planes that landed at Washington's Reagan airport early this week.
Federal Aviation Administration Administrator Randy Babbitt said Thursday in a statement that the controller has been suspended from his operational duties. He said he was "personally outraged" that the supervisor, the lone controller on duty in the airport tower at the time, failed to meet his duties.
The National Transportation and Safety Board said in a statement Thursday that the controller responsible has admitted to falling asleep on the job. He attributes his fatigue to working four consecutive night shifts.
An aviation official who spoke on condition of anonymity because an investigation is under way said the supervisor fell asleep.
U.S. Transportation Secretary Ray LaHood is directing that two people be on duty overnight in the Reagan Washington National Airport control tower following the incident.
"It is not acceptable to have just one controller in the tower managing air traffic in this critical air space," LaHood said in a statement. "I have also asked FAA [Federal Aviation Administration] Administrator Randy Babbitt to study staffing levels at other airports around the country."
American Airlines flight 1012 was on final approach to the airport at 12:10 a.m. Wednesday and abandoned the descent when the tower was unresponsive, according to the National Transportation Safety Board. United Airlines flight 628T coming from Chicago faced the same experience fifteen minutes later.
National Transportation Safety Board spokesman Peter Knudson said the pilots were able to communicate with a regional air traffic control facility in Virginia, about 40 miles from the airport. Both planes landed safely using "uncontrolled airport" procedures.
Safety officials said controllers at the regional facility were unable to reach anyone at the airport tower by phone.
An aviation official, who spoke to the Associated Press on condition of anonymity, said the single controller -- a supervisor -- was scheduled for duty in the tower at that time but had fallen asleep. The post-midnight shift in the control tower is reserved for supervisors.
The Federal Aviation Administration released a statement confirming the incident.
"The FAA is looking into staffing issues and whether existing procedures were followed appropriately," agency spokeswoman Laura Brown said in an email.
Rep. John Mica, chairman of the Transportation and Infrastructure Committee, says the incident is a "serious concern."
"This incident and other recent performance failures, including near miss incidents, are matters of serious concern. I am asking Aviation Subcommittee Chairman Petri and the Committee's investigative staff to conduct a thorough review of this and other recent mishaps," the Florida Republican said in a statement.
Mica also pledged that the committee would review the matter.
It's unlikely the safety of the planes was at risk since the pilots would have used a radio frequency for the airport tower to advise nearby aircraft of their intention to land and to make sure that no other planes also intended to land at that time, aviation safety experts said. At that time of night, air traffic would have been light, they said.
Also, controllers at the regional facility, using radar, would have been able to advise the pilots of other nearby planes, experts said.
The primary risk would have been if there was equipment on the runway when the planes landed, they said.
But the incident raises serious questions about controller fatigue, a longstanding safety concern, said John Goglia, a former NTSB board member.
"You have to watch your schedules to make sure (controllers) have adequate rest," Goglia said. "It's worse when nothing is going on. When it's busy, you have to stay engaged. When it's quiet, all they have to be is a little bit tired and they'll fall asleep."
Aviation experts emphasized the unusual nature of the incident.
"I'm not sure that in all the years I've been flying airplanes that I can recall coming into a major airport and I couldn't get hold of a controller in the airport tower," said aviation safety consultant John Cox, who spent 35 years as an airline and corporate pilot.
However, planes, including smaller airliners, land all the time at small airports that don't have control towers or controllers to clear landings.
The NTSB board is gathering facts to determine whether a full-fledged investigation is needed. The name of the controller wasn't available.
The Associated Press contributed to this report.