Afghanistan vet does battle with Michigan teachers union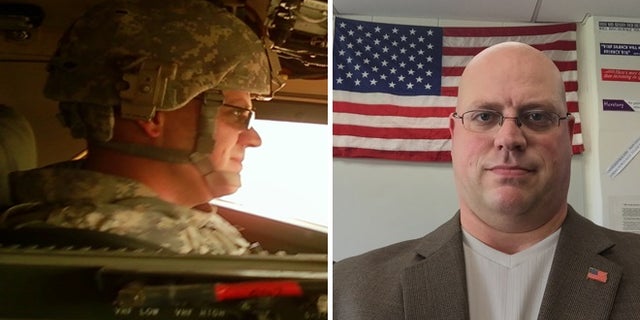 NEWYou can now listen to Fox News articles!
Michigan high school social studies teacher Adam Neuman was surprised when he saw the $80 deduction on his paycheck from the Brighton Public School District earlier this year, and angry when he was told the same amount would be withheld next year.
The U.S. Army veteran, who served one tour in Afghanistan, opted out of the Brighton Education Association and parent organization, the Michigan Education Association, in August, as was his right under the state's 2012 law. Yet, the union has informed him that the teachers contract dictates he will be once again responsible for a deduction to pay for something known as "release time."
"I don't feel that they should be taking money out of my check if I am not part of the union," Neuman, who has taught for 17 years at his alma mater in Brighton, 45 miles west of Detroit, told FoxNews.com. "The law is clear. I'm no longer required to pay dues. It's as if they are punishing me for not staying in the union."
"Liberty is a simple word to say. I prefer to live it."
The "release time" deduction is money earmarked to pay the salary of the union president. Teachers who double as union officers have half their salaries paid by the school district and the other half by the union. Under the current contract, all teachers, even those who opt out, must chip in for the union's share.
[pullquote]
Neuman notes that Michigan state law states that any union member who opts out does not have to financially support the union as a condition of employment which includes "any dues, fees, assessments, or other charges or expenses of any kind or amount," under the act.
"This isn't about the money," Neuman, 40, said. "It's a matter of principle for me. I believe my rights are straightforward and clear."
The release time practice cost Michigan taxpayers nearly $3 million a year as of 2011. Although the state House of Representatives passed a bill banning the practice of paying teachers for union work, the bill has languished in the Senate.
Officials for neither the Michigan nor Brighton Education Association returned requests for comment.
The Mackinac Center for Public Policy, which filed suit on behalf of Neuman last month in Livingston County Circuit Court, says that the BEA is violating the state's Public Act 53 of 2012 which states that public schools are forbidden from "collecting dues or services fees" from payroll deduction on a union's behalf. Neuman is seeking an injunction, legal fees and a $500 fine against the union and the board of education.
"What part of opting out does the union not understand?" said Patrick J. Wright, vice president for legal affairs at the Mackinac Center. "They are not allowed to raid a non-member's paycheck. Adam fought for freedom overseas, and he just wants to exercise it back home."
It's not Neuman's first fight. The married father of two joined the Army Reserves in 2008 after hearing about several of his former students who were being recalled to active duty under the military's "stop-loss" policy and eventually was stationed in Kandahar during the 2011 surge.
"I'm a government teacher and one of the things we teach our students is the importance of civic duty," Neuman said. "I saw what some of my students were going through and I decided to sign up.
"If I'm going to instill these values, then I certainly should practice what I preach," he added.
Neuman believes the union benefits in two ways from contract language requiring even non-members to pay for release time. It spreads out the cost, and, Neuman believes, sends a message to other teachers that opting out won't save them money.
Neuman chose to leave the union because he believed his dues were supporting an organization that opposed his principles, particularly on U.S. military involvement in the Middle East. He also said he believes the union protects ineffective teachers, something he found the military never tolerated.
Despite issues with the union, Neuman says he is happy working at Brighton High School and has no issue with others who might support the local union.
"The staff here is great," he said. "I have no problems with unions. If others feel that they work in their best interests, then people should be a part of it. For me it's a personal choice."
"Liberty is a simple word to say. I prefer to live it."