Acts of courage emerge in wake of deadly Fort Hood shooting massacre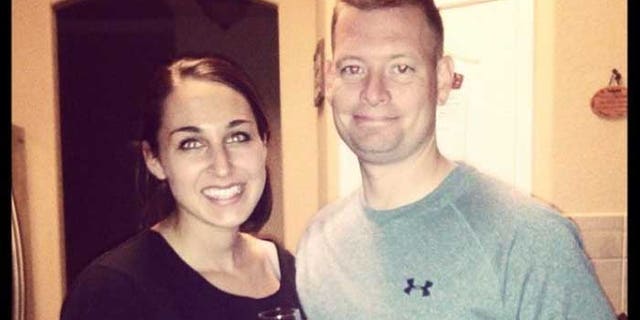 NEWYou can now listen to Fox News articles!
Gripping accounts of heroism are emerging in the aftermath of Wednesday's Fort Hood shooting massacre, including the story of one soldier who died trying to hold a door shut, preventing the gunman from killing dozens of military personnel packed inside the room.
Army Sgt. Danny Ferguson, who had just returned from deployment in Afghanistan, was killed while trying to keep the shooter from entering the room, Ferguson's fiancee, Kristen Haley, told WTSP-TV.
Haley, also a soldier, told the station that Ferguson held the door shut "because it wouldn't lock."
"It seems the doors would be bulletproof, but apparently they're not. If he wasn't the one standing there holding those doors closed, that shooter would have been able to get through and shoot everyone else," said Haley, who was close by when gunman Ivan A. Lopez opened fire, killing three people and injuring 16 others before turning the gun on himself.
Lopez, 34, shot and killed himself after being confronted by a military police officer, according to Lt. Gen. Mark Milley, head of the Army's III Corps at Fort Hood.
Milley praised the unnamed female officer for her heroism, saying she prevented many more soldiers from being shot during the attack.
"She clearly performed her duty exceptionally well," he said Thursday.
Ferguson, originally from Mulberry, Fla., was a gifted athlete who his high school teachers said was destined for greatness, WTSP reports.
He graduated in 1993 from Mulberry High School in Polk County, where he played football, baseball, basketball and ran track.
"The fact he was able to play several sports probably doesn't surprise you he went on to fight for his country," Mulberry High School teacher Joy Andrews told the station. "You usually don't sit around after graduation if you have that much in you."
Two others died when Lopez, a married father of four, opened fire on the base Wednesday. Investigators are still trying to determine the "trigger" for the shooting spree, but said there was a strong possibility a "verbal altercation" with other soldiers immediately preceded the rampage.
Milley said Thursday Lopez "had a medical history that indicated an unstable psychiatric or psychological condition." Secretary of the Army John McHugh said records show Lopez, who served four months in Iraq as a truck driver in 2011, suffered no wounds during his deployment there. McHugh testified Thursday at a Senate Armed Services Committee hearing, during which he said Lopez was undergoing a variety of treatment for psychiatric issues, ranging from depression to anxiety to sleep disturbances. He said Lopez was taking "a number of drugs," including Ambien, for these conditions, and that he had seen a psychiatrist just last month. McHugh said there were no indications during that examination that Lopez showed any "sign of likely violence."
[audio-clip]
At a press conference Friday, Milley said,"We are digging into his combat experience in Iraq and so far we have not discovered any specific traumatic event, wounds received in action, contact with the enemy, or anything specific that he may have been exposed to while deployed but we are continuing to examine this line of inquiry. Secondly, his underlying medical conditions we do not believe are the direct precipitating factor to the incident."
Milley said authorities now think the "precipitating event" was "some sort of argument that occurred."
He also identified the other two dead as Sgt. Timothy Owens, 37, of Effingham, Illinois and Staff Sergeant Carlos Alberto Laney Rodriguez of Aguadilla, Puerto Rico.
By Friday afternoon, Milley said, only six of the 16 wounded remained in hospitals.
Lopez was armed with a .45 caliber Smith & Wesson, which he purchased March 1 at a local gun store -- the same shop where U.S. Army Maj. Nidal Hasan purchased his weapon that killed 13 and wounded 30 on the same base in 2009.
Lopez had only been assigned to Fort Hood earlier this year. He was transferred from Fort Bliss, where he spent several years.
Lopez posted a chilling update on his Facebook page, accusing two men of robbing him and possibly hinting that he was on the brink of snapping, Fox News Latino reported.
"I have just lost my inner peace, full of hatred, I think this time the devil will take me," Lopez wrote in the March 1 post.
Edgardo Arlequin, the mayor of Lopez's hometown of Guayanilla, Puerto Rico, told Fox News Latino Lopez had been distraught over the deaths of his mother and grandfather within a two-month period five months ago. Arlequin said that the Army initially denied Lopez permission to travel to Puerto Rico to attend his mother's funeral, but later gave him 24 hours to attend.
In a statement released Friday, Lopez's father said, "This situation is very painful. I ask for prayers for all the families affected ... My son could not have been sane, he was not like this."