ACLU questions how high-speed chase ended in deadly shooting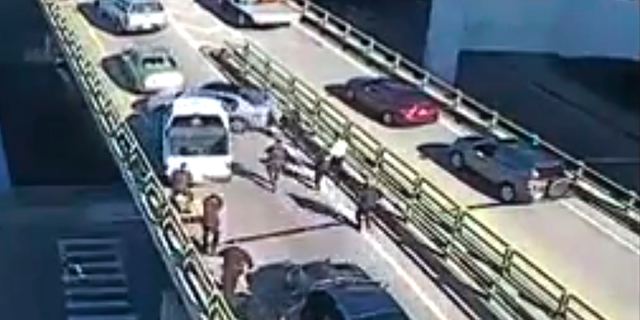 PROVIDENCE, R.I. – The American Civil Liberties Union raised questions Monday about how a high-speed chase ended in a deadly shooting involving officers on Interstate 95 in Rhode Island.
The ACLU of Rhode Island is questioning whether the chase and use of force were justified, why more body cameras weren't activated and why state police haven't released the involved troopers' names.
Police say Joseph Santos, 32, tried to speed away from officers Thursday but got caught in traffic and repeatedly rammed another car in front of him as officers jumped out of the way.
Providence and state police fired more than 40 rounds, killing Santos and injuring his passenger, Christine Demers, 37. Both agencies praised the responding officers for keeping the public safe.
"In the absence of additional information, it would be wrong to blame the police for what they did," the ACLU said in a commentary on the shooting. "But it is just as inappropriate for police officials to so quickly conclude that there is no fault by police for what happened either."
It wasn't immediately clear why Santos wouldn't stop, though police did say he had two outstanding warrants.
Providence Police released the names of their officers involved and video footage Friday. Officers recently began wearing body cameras, and only one of the department's five officers who used their weapons had body camera footage.
State Police Col. Ann Assumpico, in a press conference Saturday, wouldn't release the names of the four troopers involved, although she commended them, The Providence Journal reported .
The ACLU is asking state police to release its high-speed pursuit policy and the troopers' names. It says the agency's decision not to name the troopers "represents a glaring and troubling lack of transparency."
The state police didn't immediately respond to a request for comment Monday.
The shooting happened less than two hours after a suspect who was being taken to court was left alone in a state police cruiser. The man stole the police vehicle, driving it to a Providence neighborhood and abandoning it.
Authorities on Friday arrested 35-year-old Donald Morgan, who was wanted for stealing the cruiser.
Assumpico said the trooper who left Morgan alone was "following protocol," according to The Providence Journal. She said the trooper stopped to investigate an accident scene, and state police must leave their keys in their cars to run emergency lights. She would not name the trooper.