Accused killer of LA exec reportedly rich playboy from Guatemala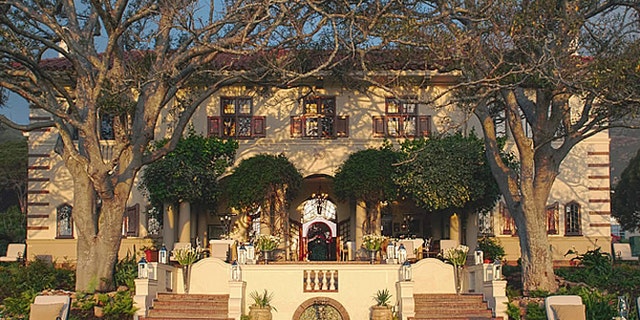 NEWYou can now listen to Fox News articles!
The Guatemalan man accused of brutally murdering a Los Angeles public relations executive at a five-star South Africa hotel last week appeared in court Tuesday, as details emerged showing he has had run-ins with the law in the U.S., and is reportedly the black sheep of the family behind a Central American concrete empire.
Diego Dougherty, who is also known as Diego Dougherty Novella, was charged in Cape Town with the grisly murder of Gabriela Kabrins, 39, in their $10,000-per-night hotel room at the beach resort Camps Bay Retreat. Kabrins was found by a cleaning person, clothed but sexually assaulted and smeared with feces, according to Johannesburg's Times Live. Dougherty's rich family has bailed him out of trouble before, according to the Daily Mail, but this time, the shocking charges may be beyond the powerful family's protection.
"Diego had a very privileged upbringing and became a spoiled brat," a family source told the Daily Mail. "He has never had a job and lived the life of a playboy, full of vices and eccentricities.
"Diego had a very privileged upbringing and became a spoiled brat."
"In Guatemala he has got himself into a lot of minor trouble, but he always got out of it thanks to the family influence."
Police sources told Times Live that Kabrins is suspected to have been suffocated or strangled to death. She was severely beaten and an autopsy found internal and external injuries, the publication said.
Additional charges could still be brought against Dougherty, state prosecutor Carmen Daniels told Times Live. Dougherty reportedly did not speak or enter a plea Tuesday, and is being held at the hospital wing of Pollsmoor Maximum Security Prison, according to his attorney, William Booth. Booth did not elaborate on what type of medical attention Dougherty needed.
In what may be a sign of that influence, Acisclo Valladares Molina, the Guatemalan ambassador to London, who also covers South Africa, has been asked to look into the murder case, reports Guatemala's Publinews.
Kabrins' body was found in a room with a pound of cocaine, the Daily Mail reported.
"His school friends say that when he drinks he turns into a savage," the family source told the Daily Mail. "In recent years he has become a heavy user of crack and cocaine."
Those comments appear to fit with a pattern of alleged substance abuse issues for Dougherty.
A search of court records found that he was twice convicted in Texas during the 1990s of driving while intoxicated. He was also charged in Texas in 1996 with having improperly contacted another court party.
He was charged in April 2001 in California with the possession of a controlled substance and being under the influence of a controlled substance, but those cases were dismissed.
"He is a user, not a dealer. He doesn't need the money," a source told the Daily Mail. "I have partied with him a lot. He is a party boy, he is a dope, but he never came off as a psycho. He seemed more like a loner. I could see something like this coming from mental health conditions."
Cementos Progreso, the cement company established in 1899 by the suspect's grandfather, Don Carlos Federico Novella Klee, is one of Guatemala's biggest companies and is known for charitable works through a related foundation run by the family. The Guatemalan national soccer team's stadium bears the company name.