Abused gymnast: MSU settlement reflects 'incredible damage'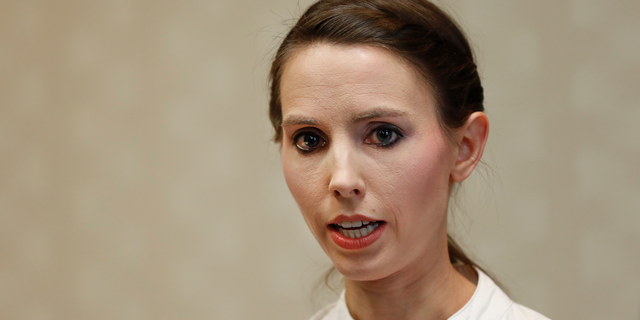 Former gymnast Rachael Denhollander helped expose the Larry Nassar sexual abuse scandal by speaking out publicly about what he did to her and by filing a criminal complaint with police in 2016.
Since then, she has been a driving force in calling for changes at Michigan State University, USA Gymnastics and the U.S. Olympic Committee, and has advocated for bills related to the case that are pending in the Michigan Legislature.
Denhollander released this statement on Wednesday after Michigan State announced it had agreed to pay $500 million to more than 300 women and girls who said they were sexually assaulted by Nassar:
___
"I am very grateful to have reached a settlement with MSU that reflects the incredible damage which took place on MSU's campus. I am thankful that the litigation phase is over so that my sisters and I can move forward.
"I remain deeply disappointed at the missed opportunity for meaningful reform at the University. My choice to come forward publicly against Larry, and later against the institutions that allowed him to prey on children for decades, was motivated by the need for accountability and reform, so that other little children don't live the nightmares we lived. This is a passion all of the Sister Survivors share, and one which has not diminished or changed. "Moving forward", for myself and many others, means continuing to advocate, call for accountability, and stand for those who have yet to have a voice. This includes continuing to advocate for desperately needed accountability and change at USAG and in the USOC. I remain disappointed that resolution was not reached with these other organizations who also enabled a serial predator for decades.
"I am deeply aware that behind me and my sisters are hundreds of survivors who still have no voice. Who still have no access to the court systems because of outdated and archaic criminal and civil statutes of limitations — some of the worst in the entire country. I renew my call, therefore, for the MI House of Representatives to stand for these survivors, ask themselves "what is right?" and "What does the data truly show?", and pass the reform package we so desperately need as a first step in legislative reform.
"The litigation phase is over, but the fight for change and accountability, the fight to give survivors a voice and protect the next generation, has only just begun. We intend to stand united with, and for, ALL survivors of abuse as we work together towards these goals.
"I am also deeply grateful for the journalists who worked so tirelessly to find and tell the truth so that reform can come. Please continue this fight with us. Sexual assault and the cultural and institutional dynamics that allow it to flourish are everywhere, and need to be uncovered and exposed in all their ugliness.
"To everyone who has supported us and pushed with us for reform, please know how much your voices have meant to me, and to all of us, through this process. Please keep standing with us — there is so much left to be done."