Abandoned trucks litter California highway as wildfire rages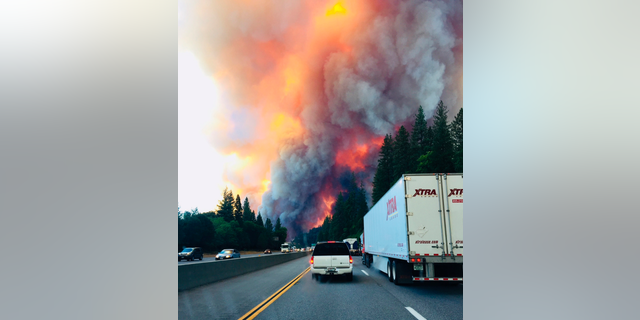 NEWYou can now listen to Fox News articles!
REDDING, Calif. – An explosive wildfire closed down dozens of miles of a major California freeway only weeks after a nearby blaze that left neighborhoods in ruins and killed eight people.
The Delta Fire erupted Wednesday afternoon and within hours had devoured nearly 8 square miles of timber and brush on both sides of Interstate 5 near the Oregon state line.
The blaze was human-caused, fire officials said, but they didn't indicate whether it was arson or accident.
Truckers abandoned their vehicles as flames roared up hillsides. In a video, a passenger in a vehicle screams: "Oh my God, I want to go!" as trees burst into flames and sheets of fire roiled on the side of the roadway.
About 17 big-rigs were abandoned and at least four caught fire, Lt. Cmdr. Kyle Foster of the California Highway Patrol's Mount Shasta office told the Los Angeles Times.
U.S. Forest Service workers helped the driver of one flaming truck to safety and other truckers, firefighters and others aided other drivers, he said.
"There's vehicles scattered all over," Brandon Vaccaro with the California Department of Forestry and Fire Protection told the Redding Record Searchlight. "Whatever occurred here was probably pretty ugly for a while."
About 45 miles of the I-5 were closed in both directions, said Chris Losi, a spokesman for the Shasta-Trinity National Forest. The road remained closed through Wednesday night and there was no immediate word on when the lanes would reopen.
The blaze also delayed Amtrak's Coast Starlight service between Sacramento and Oregon.
Scattered rural homes and cabins in and around the forest were under evacuation orders, from the community Lakehead north to the Siskiyou County line, Losi said.
"It isn't a lot of people," he said.
The fire was showing "critical' behavior — burning fiercely and moving rapidly — but was still far away from any large towns, he added.
The Delta Fire was not immediately burning near large towns but was threatening a number of structures in an area of campgrounds, recreational residences and cabins, forest spokeswoman Kerry Greene said.
The city of Dunsmuir, with about 1,500 people, was about 15 miles from the fire. Residents were issued an evacuation warning, urging them to be prepared to leave if the fire threatened.
It comes just weeks after a devastating fire destroyed nearly 1,100 homes and killed eight people in the same area. That blaze, the Carr Fire, was declared contained just last week.
Meanwhile, a forest fire in California's eastern Sierra Nevada continued to grow and impacts on travel were increasing, officials said.
State Route 108 was closed from the Alpine-Mono county line to U.S. 395, which was already shut down in the mountainous region about 200 miles (320 kilometers) east of Sacramento, the California Department of Transportation said.
The U.S. 395 closure extended from the town of Bridgeport to just south of the community of Walker, Caltrans said.
The Boot Fire began Tuesday in the Humboldt-Toiyabe National Forest. Evacuation orders remained in place for the Bootleg, Chris Flat and Sonora Bridge campgrounds. Unspecified structures were threatened in the Burchum Flats area east of Walker Canyon.