A weakened Florence continues destructive path to northeast
A weakening Florence is expected to drop at least about 6 inches of rain over parts of the Mid-Atlantic and New England over the next few days – raising fears that the heavily saturated waterways in the region will trigger flash floods.
The deadly storm – which has claimed at least 18 lives so far, including a 1-year-old boy who was swept from his mother's arms while they tried to get to dry land – has dropped an abundant 30 inches of rain since it made landfall as a Category 1 hurricane on Friday morning.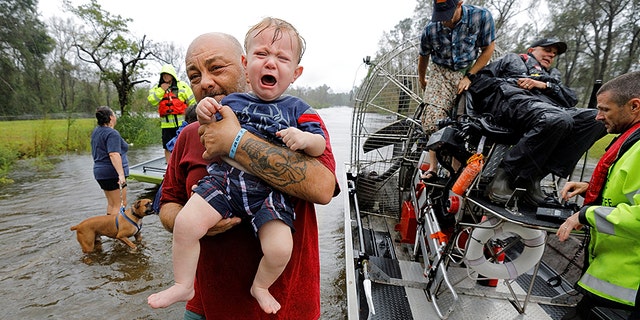 In some places, the rain has stopped as Florence moved on. But while the sun has peeked through the clouds, North Carolina Gov. Roy Cooper is urging residents in the state's hardest-hit areas to stay away from the flooded and closed roads.
"There's too much going on," he said during a Monday news conference, stressing that "catastrophic flooding and tornados" in the region pose an immediate threat.
The once-Category 4 hurricane has been downgraded to a tropical depression. But it is still a massive storm and it's making its way further north.
Radar shows parts of the sprawling storm over six states, with North and South Carolina in the bull's-eye. Flash flood watches and warnings are still in effect.
"Not only are you going to see more impact across North Carolina...but we're also anticipating you are about to see a lot of damage through West Virginia, all the way up to Ohio as the system exits out," Federal Emergency Management Agency Administrator Brock Long told Fox News on Sunday.
Forecasters said Florence is expected to weaken before re-intensifying as it transitions to an extratropical cyclone through Wednesday.
Fox News meteorologist Brandon Noriega said Monday any additional rainfall will exacerbate ongoing flooding and may even result in landslides near the Appalachians.
Residents in the community of Creston were ordered to evacuate their homes Sunday night as a dam holding back water threatened to breach. There has been no indication that the dam has breached, the Weather Channel reported.
The National Weather Service reported Sunday night that the Headwaters Dam was in danger of being breached and warned anyone living downstream to evacuate.
It's not immediately clear how many people evacuated.
Meanwhile, the city of Wilmington, N.C., has been completely cut off by floodwaters and officials are asking for additional help from the National Guard.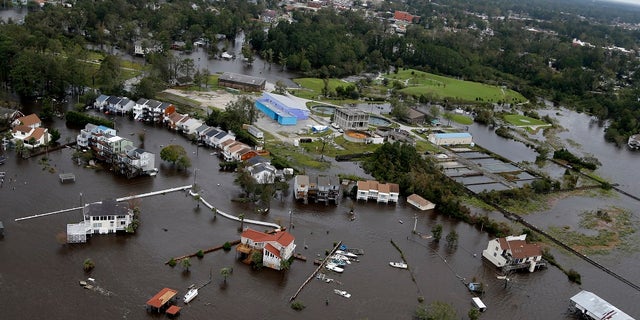 "There is no access to Wilmington," Woody White, chairman of the county Board of Commissioners, said Sunday at a news conference.
While Wilmington has survived its share of hurricanes, including Hurricane Fran in September 1996, the city of 120,000 has not suffered through anything like the amount of rain that fell from Florence.
About 70 miles away from the coast, residents near the Lumber River stepped from their homes directly into boats floating in their front yards. River forecasts showed that the scene could be repeated in towns as far as 250 miles inland as waters rise for days.
The rain was unrelenting in Cheraw, a town of about 6,000 people in northeastern South Carolina. Streets were flooded, and Police Chief Keith Thomas warned people not to drive, but the local food and gas store had customers.
"As you can tell, they're not listening to me," he said.
More than 486,000 people are still without power and Duke Energy president, David Fountain, said Monday that it may take a week or more to restore power for remaining customers.
Fox News' Samuel Chamberlain and Bradford Betz and the Associated Press contributed to this report.