A snapshot of Guam before US-North Korea conflict and now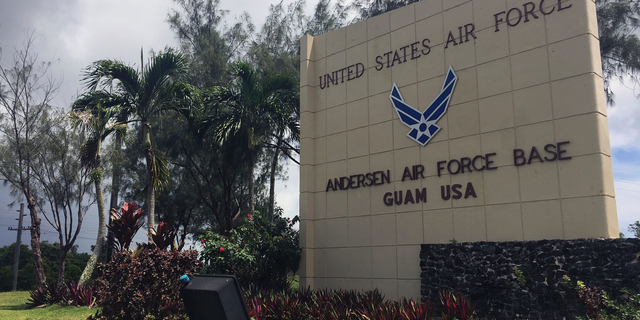 HAGATNA, Guam – North Korea has announced a detailed plan to launch a salvo of ballistic missiles toward the U.S. Pacific territory of Guam, a major military hub and home to U.S. bombers. If carried out, it would be the North's most provocative missile launch to date.
Here's a closer look at Guam and its role in the U.S. and North Korea's ongoing war of words.
THE LATEST
North Korea warned that they are finalizing a plan to fire four Hwasong-12 missiles over Japan and into waters around Guam. Japan and South Korea vowed a strong reaction if the North were to go through with the plan. The North said the plan, which involves the missiles hitting waters 19 to 25 miles (30 to 40 kilometers) from the island, could be sent to leader Kim Jong Un for approval within a week or so. It would be up to Kim whether the move is actually carried out.
President Donald Trump responded that perhaps his 'fire and fury' warning "wasn't tough enough." North Korea "better get their act together or they are going to be in trouble like few nations have ever been in trouble," the president told reporters while on vacation at his New Jersey golf club before a security briefing with top advisers.
GEOGRAPHIC BASICS
The strip of land in the western Pacific Ocean is roughly the size of Chicago, and just 4 miles (6 km) wide at its narrowest point. It is about 2,200 miles (3,500 km) southeast of North Korea, much closer than it is to any of the United States. Hawaii is about 4,000 miles (6,500 km) to the east. Its proximity to China, Japan, the Philippines and the Korean Peninsula has long made the island an essential possession of the U.S. military.
U.S. RELATIONSHIP
Guam was claimed by Spain in 1565 and became a U.S. territory in 1898 during the Spanish-American War. Japan seized it for about 2½ years during World War II. In 1950, an act of Congress made it an unincorporated organized territory of the United States. It has limited self-government, with a popularly elected governor, small legislature, and non-voting delegate in the U.S. House of Representatives. Residents do not pay U.S. income taxes or vote in the general election for U.S. president. Its natives are U.S. citizens by birth.
MILITARY HISTORY
The U.S. keeps a Naval base and Coast Guard station in the south, and an Air Force base in the north that saw heavy use during the Vietnam War. While already taking up 30 percent of the island, the American military has been seeking to increase its presence by relocating to Guam thousands of Marines who are currently based in Okinawa, Japan. Protecting the island is the U.S. Army's Terminal High Altitude Area Defense, or THAAD, which is used to shoot down ballistic missiles. While there has been some resistance and displeasure from the people of Guam over the U.S. military's presence, it is also essential to the island's economy, second only to tourism in importance.
PEOPLE AND GOVERNMENT
The island was first populated about 4,000 years ago by the ancestors of the Chamorros, still the island's largest ethnic group. Now, about 160,000 people live on Guam. Its capital city is Hagatna and its largest city is Dededo. Its chief languages are English and Chamorro. It has seen various popular movements pushing for greater self-government or even U.S. statehood, most notably a significant but failed effort in the 1980s to make it a commonwealth on par with Puerto Rico.
MILITARY INSTALLATIONS AND THIER SIGNIFICANCE
There are two major bases on Guam: Andersen Air Force Base in the north and Naval Base Guam in the south. They are both managed under Joint Base Marianas. The tourist district of Tumon, home to many of Guam's hotels and resorts, is in between. The air base was built in 1944, when the U.S. was preparing to send bombers to Japan during World War II. Today, Naval Base Guam is the home port for four nuclear-powered fast attack submarines and two submarine tenders. Andersen Air Force Base hosts a Navy helicopter squadron and Air Force bombers that rotate to Guam from the U.S. mainland. It has two 2-mile (3-kilometer) -long runways and large fuel and munitions storage facilities. Altogether, 7,000 U.S. military personnel are stationed on Guam.
GUAM AND NORTH KOREAN THREAT
The U.S. military began rotating bombers — the B-2 stealth bomber as well as the B-1 and B-52 — to Andersen in 2004. It did so to compensate for U.S. forces diverted from other bases in the Asia-Pacific region to fight in the Middle East. The rotations also came as North Korea increasingly upped the ante in the standoff over its development of nuclear weapons. In 2013, the Army sent a missile defense system to Guam called Terminal High Altitude Area Defense or THAAD. It's designed to destroy ballistic missiles during their final phase of flight. A THAAD battery includes a truck-mounted launcher, tracking radar, interceptor missiles and an integrated fire control system.