A look at the firing of Rutgers basketball coach Mike Rice and the fallout for the university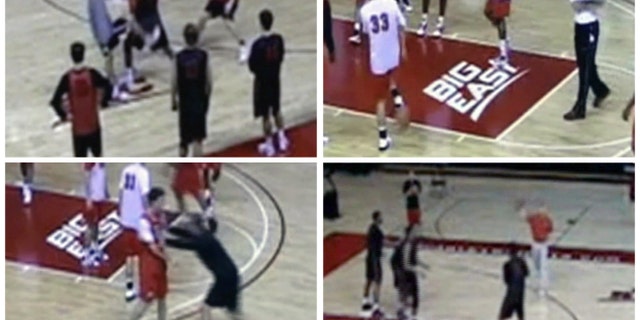 NEWYou can now listen to Fox News articles!
Rutgers University fired men's basketball coach Mike Rice this week after the public airing of video showing him berating players. At at-a-glance look at the facts in the case:
___
THE VIDEO
The edited clips of practices from 2010 through last year were made public by Eric Murdock, a former basketball program employee at Rutgers, the state's flagship public university. He shared it with university officials in November, and ESPN later obtained a copy of it. With the cable network readying a report, Athletic Director Tim Pernetti released the video to other media outlets this week. It shows Rice shoving and kicking players, as well as throwing basketballs at them and spewing gay slurs.
___
THE UNIVERITY RESPONSE
In December, Rice was suspended for three games and ordered to anger management counseling over his behavior, but officials decided not to fire him at the time. This week, he was ousted. University President Robert Barchi said he changed him mind and decided that a suspension was not sufficient after finally watching the video. No explanation was immediately given on why the first-year president didn't view the video last year.
___
THE RUTGERS FALLOUT
Rutgers alumni who have spoken out about the case have overwhelmingly said Rice deserved to be fired. And like a growing number of faculty, many say Pernetti should also go. Some are calling for the president to lose his job, too.
____
RUTGERS AND GAYS
The revelation that the coach used gay slurs and still kept his job struck a nerve at the university because of the 2010 suicide of Tyler Clementi. The university put policies in place to be more hospitable to gay students after Clementi jumped off a bridge days after his roommate used a webcam to see him kissing another man.
___
THE RESPONSE IN COACHING
Several well-known coaches say it's never been acceptable to shove, kick or throw a ball at a player.
___
THE POLITICAL FALLOUT
In so many words, Gov. Chris Christie let it be known the day the video aired that he didn't want Rice around. Senate President Stephen Sweeney is calling for Pernetti to resign or be fired. Assembly Speaker Sheila Oliver has called for an investigation into how the case was handled but no hearings have been scheduled.