9-foot python who ate cat in front of owner remains on loose in Florida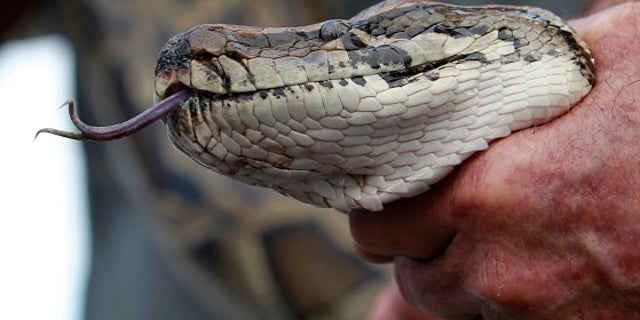 Florida firefighters were on a mission Friday to find a 9-foot python accused of devouring a cat in front of its owner.
Dan Miller, Lake County's Fire Rescue Battalion chief, told the Orlando Sentinel the feline's owner, a 40-year-old man, was "pretty upset" as he showed fire officials the flooded area in Astor where the snake fled.
Astor was affected by powerful Hurricane Irma. The community was put under a voluntary evacuation order ahead of the powerful storm.
FLORIDA NURSING HOME WHERE 8 DIED AFTER HURRICANE IRMA PREVIOUSLY CITED FOR GENERATOR ISSUES
"He showed us where he saw it slither off to, and we put on our gear and went looking," Miller said.
Unfortunately, rescue workers did not find the reptile -- though they were able to rescue a blue heron.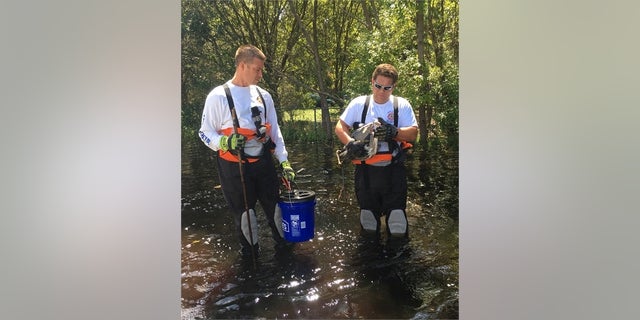 "What we found was this bird flopping around in the water. It couldn't get out," Miller said.
Miller said the firefighters let the bird go once they cleaned it.
The firefighters have not given up yet. The team "Venom II" have asked the community to not kill any snakes that were dislocated by the hurricane. Instead they ask residents to photograph any snake that was spotted and officials would come and remove it.
"It might be good for the ecosystem," Miller said.
HURRICANE IRMA LEAVES MILLIONS WITHOUT POWER IN FLORIDA AS EVACUEES RETURN HOME
Lake County Sheriff's Office told the Orlando Sentinel they had not received any record of a misplaced python.
"That thing will turn up again soon," Lt. John Herrell Office said.
Experts believe there could be tens of thousands of the giant snakes living in an 8,000-square kilometer region of southern Florida. The voracious predators have devastated the native species like deer, bobcats and raccoons.