9/11 terror attack survivors, first responders remember the day with 'Healing Ink' tattoos
NEWYou can now listen to Fox News articles!
Tom Canavan will never forget where he was on September 11, 2001.
It's something he's reminded of every single day – as one of the roughly 18 survivors buried under the Twin Towers' debris – not just in his memory, but also inked as a permanent reminder on his body to cover the scars of that fateful September day.
"I wish I never had to go through it," Canavan, who works as a facilities dispatcher at the 9/11 Memorial, told Fox News. "I wish I never had to get a tattoo like this, but this is the reality of things and my legacy now is this tattoo. I'm the voice of people who can't tell you what happened there."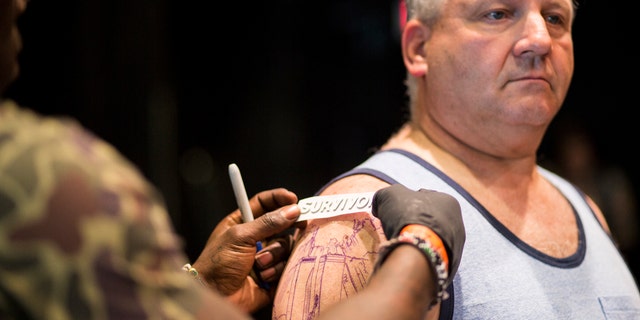 Last year, he joined a dozen other 9/11 survivors and first responders tattooed by Healing Ink, a non-profit co-founded by Craig Dershowitz and Nichole East out of an organization called Artists4Israel, that pairs the world's most famous tattoo artists with terror victims to help bring closure.
"I always said, from that day on I'll have to get something to remember this by, but it would have to be the perfect tattoo, at the perfect time, for the perfect price," Canavan noted.
PELOSI DESCRIBES 9/11 ATTACKS AS 'INCIDENT', SUGGESTS GOP WEAKER ON BORDER THAN DEMOCRATS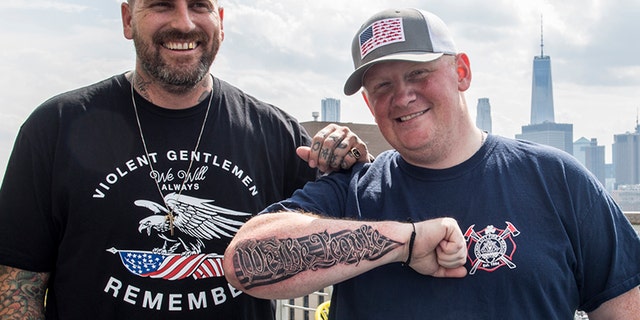 "Artists 4 Israel's Healing Ink is intended to cover the scars of terror victims, war heroes, and first responders with tattoos – helping them reclaim their bodies and continue to heal physically and emotionally," Dershowitz told Fox News.
As a tattoo-lover himself, it wasn't hard to come up with the idea of using tattoos to heal emotional wounds.
"We did it the first time in Israel thinking it would be the only time," Dershowitz said. "But it was beyond our wildest dreams. It exceeded every expectation, and so immediately after that, we said this is something that we need to share with the rest of the world."
And when Craig decided on Healing Ink NYC, it was something that hit close to home.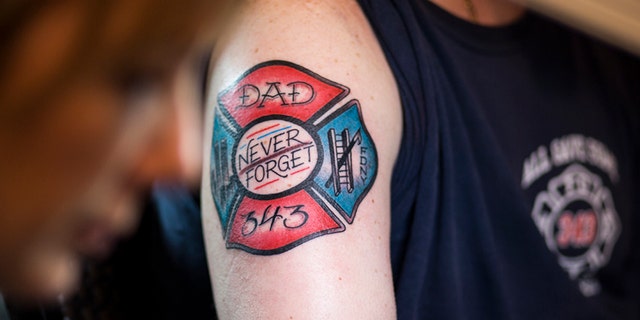 TOWER AT FLIGHT 93 MEMORIAL TO OPEN BY 9/11 ANNIVERSARY
"Being a New Yorker, 9/11 has always been something that I continue to think about and experience. I was here. I actually saw the second plane hit the tower on the train as it went from Brooklyn into New York, as you're on the bridge, and so it's just kind of stayed in my mind. And having done this in Israel, seeing the success it had there, and understanding the common tragedy that bonded Israel with the survivors of 9/11, and the uncommon strength of the people that experienced both gone through it and come out on the other end…New York had to be the next place we went to."
Healing Ink tattooed around 20 people in New York City on two different days at the Apollo Theater and the Hotel on Rivington, overlooking the Freedom Tower. Each recipient shared their story with the tattoo artist to collaborate on what ink to get.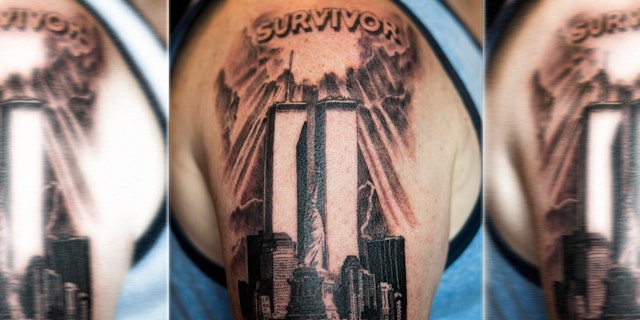 Canavan showed his tattoo artist, Zero, around the 9/11 Museum and shared his story of surviving the "hell" of the collapsing towers.
"It's very deceiving because…when you see that cloud, all you see is smoke and dust on TV, but when you're inside of that, you see file cabinets, chairs, computers, people, phones, everything just falling, everything just coming down all over the place – very chaotic – I was fortunate enough to get away from that."
USAMA BIN LADEN'S BROTHER PLEADS WITH TERRORIST MASTERMIND'S SON NOT TO FOLLOW IN HIS FOOTSTEPS
For Canavan, he wanted the word "survivor" at the top for himself and the image of the Twin Towers with the sun shining on it underneath as a tribute for everyone impacted that day.
"When I get up in the morning, rather than looking at that and seeing that in my mind's eye, seeing the other people I knew, I see the tattoo in the mirror…it's a remembrance of everything that was there – the people, the buildings – just everything of that day, whatever it stood for."
James McGinnis, another of the tattoo recipients, was on the phone to his brother who was on the 92nd floor of the North Tower when the first plane hit. During the emotional phone call, he told him to take care of his daughter for him.
"It was weird because he said this is really bad for the country," McGinnis said.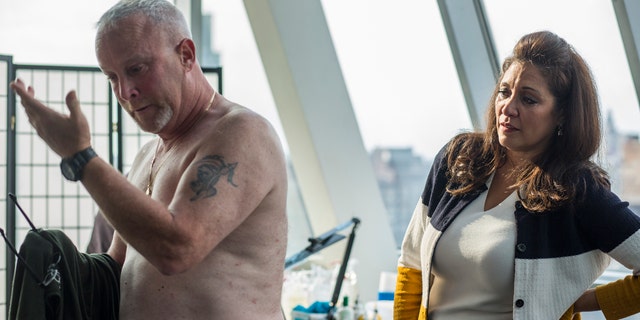 He got a tattoo of his brother holding his daughter on his back, and after they shared a photo of the tattoo, James broke down and kept repeating: "I got him now."
"I think it's a gift to the city," McGinnis said of the Healing Ink project. "It lets the people of New York know we're still here. The people around the world know, we're still here and we're not going anywhere. And we're going to heal and we'll keep healing as long as it takes."
In Orlando, Healing Ink tattooed a 9-1-1 operator, Jessica Brooks, and a Pulse Nightclub survivor, Yvens Carrenard, with whom she spoke on the phone with for 20 minutes until he was rescued by the SWAT team.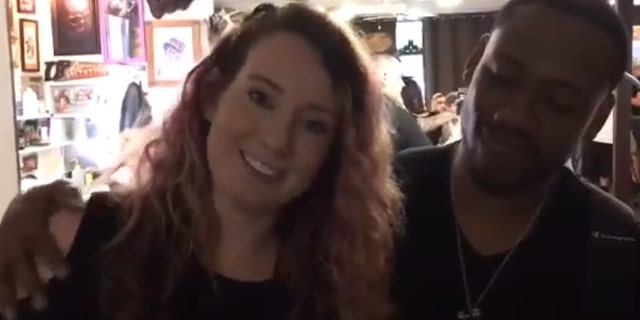 "I was the last voice a woman heard moments before the shooter came into the bathroom and shot everyone in it," Brooks said. "I heard her die. Even worse, I was the 911 Operator who spoke with the shooter when he picked up her phone. His words haunt me to this day. But, I try and focus on the survivors and the hope for healing. I spoke with a man hiding in the upstairs office until the moment SWAT rescued him. We have since met and we are friends to this day, meeting every week."
Brooks and Carrenard each got a tattoo that symbolized the other person.
Healing Ink goes back to Israel every year, where it all began. The group is making a trip in October.
Like the survivors from Pulse and in Israel, Tom has joined a community of terror attack survivors from around the world and one he now calls family.
"You're a part of a community at first, but even though you live halfway around the world, you realize you have more in common than your neighbor down the street," he said. "Our dysfunctional family…we love each other. We say 'I'm glad I met you but I wish I never met you.' With a terrorist attack…some people get it. Some people say just get over it. You never just get over it…It's sort of my legacy to help other people."
It's something both Tom and Craig have dedicated their lives to.
"So much of what Artists 4 Israel does is healing the effects of war and trying to mitigate the effects of hate," Craig said. "We wish Healing Ink didn't need to be there because if there was nothing to heal there'd be no place for us…There's no shortage of suffering, but hopefully one day there will be."