9/11 after 15 years: Those who were there remember
Ask an American where he or she was when the Towers fell, and you'll most likely get a reply with no hesitation. For people who were part of one of America's darkest days, the answers follow somber reflection. Words are chosen carefully, and the anguish of 15 years ago comes through in quiet and sometimes cracking voices. Their stories are of survival, heroism, loss and pain that remain a decade and a half on.
FoxNews.com talked to several who were there, and others familiar with the evil men who plotted the attack and live on to this day. Here are their stories:
The Governor
Gov. George Pataki was in his second of three terms when the biggest test of his career came. Fifteen years later, Pataki, now 71, said 9/11 feels "like it was yesterday." But it is the heroism he witnessed, and not the horror, that has stayed with him.
"I will always remember that bright clear morning, the friends that I lost and the people not running away from the towers, but rushing toward them to help," Pataki recalled. "And I'll always remember the people standing in line to give blood, waiting hoping for the injured and wounded who would never come that day."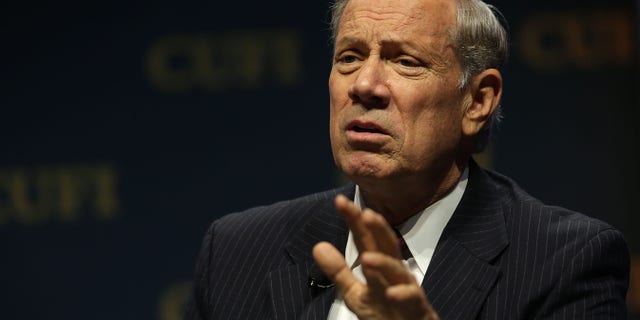 The former governor, who sought the Republican presidential nomination earlier this year, said 9/11 proved that America must stand strong against all those who would do her harm.
"Whether it's Al Qaeda, ISIS or any other radical Islamic terrorist group, we must remain committed to denying them safe haven both on land and online," he said. "We must not allow them a base of operations to train, recruit and organize attacks against Americans at home or abroad. "
*****

The Healers
Dr. Antonio Dajer, now 57 and director of New York-Presbyterian/Lower Manhattan Hospital's emergency department, recalls being in the restroom on the second-floor conference room windows of the hospital when every intern and resident looked out the window to see the first tower ignite.
"Respiratory stat to the emergency room!" came a voice over the intercom, as the charge nurse shouted that "an American Airlines plane hit the World Trade Center!"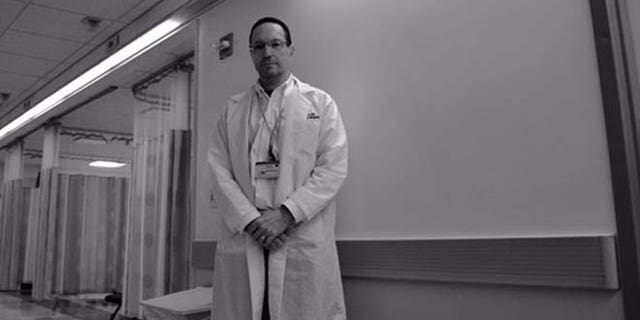 "The first patient was so badly mutilated – it was unimaginable," Dajer recalled. "The air was gray outside. Inside, patients had been moved upstairs or to the operating rooms. We were transferring out the burns, the head traumas, and the bad fractures to clear the decks for another hundred patients… But instead there was only a trickle. The street suddenly fell quiet."
A half hour later, Dajer walked to City Hall Park, three blocks away.
"The smoke funneling up Broadway was black and endless," he continued. "Discarded shoes were everywhere. A crust of papers and thick gray dust blanketed the park, the streets."
He remembers a young man dying, his lungs slowly and inexorably giving out and a trembling resident having to tell the patient's wife her husband is dead.
"She dropped to the ground," Dajer observed. "And when the resident tried to help her up, she punched him with brutal force."
John Episcopo, a 38-year-old New York-Presbyterian Emergency Medical Services Technician, went to breakfast that morning with two co-workers – Keith Fairben and Mario Santoro. Both would die on the fateful morning, killed by the rubble of a falling building as they tended the wounded.
Episcopo wasn't scheduled to work, but had subbed for a co-worker and came close to losing his own life by the World Trade Center.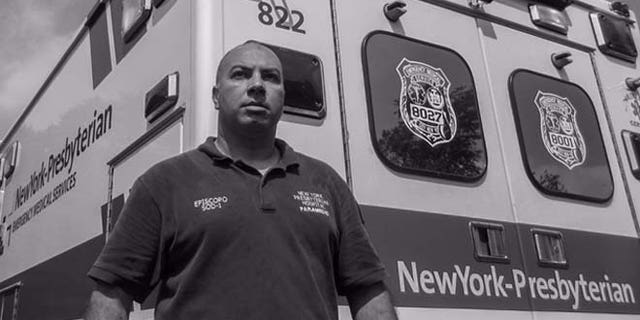 "Someone yelled, 'Run for your life!' and I looked up and it was gray, there was this static sound and we all just ran in different directions," he said. "I was thrown about 30 feet, landed in a walkway and just curled up and prayed."
With a broken wrist and cuts and bruises all over his body, Episcopo dragged himself back the hospital where he continued the grim and grueling work of treating broken strangers.
"We continued to work day and night in the days following," Episcopo said. "All the while, mourning the loss of our colleagues."
Dr. JoAnn Difede, director of the Program for Anxiety and Traumatic Stress Studies at New York-Presbyterian and Weill Cornell Medicine, had just taken her son to his second day of pre-school when the first plane hit the North Tower. Her beeper immediately started going off – and didn't stop. To this day, Difede is haunted by the faces of young victims and their families.
"I remember walking through the emergency room and it was completely empty," she recalled. "There was medical staff all geared up waiting to receive survivors. And there just weren't any."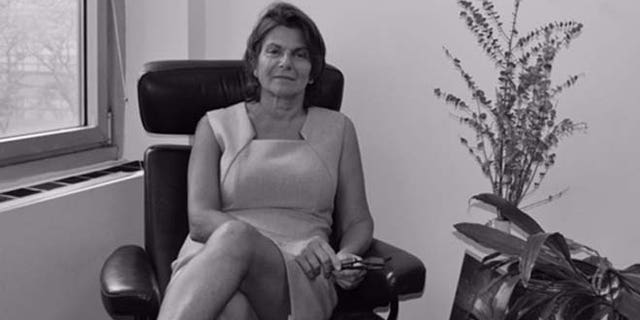 Many were being treated at makeshift hospitals nearer the scene, but in the coming hours and days, the emergency room would swell with patients, and their loved ones.
A few days later, Difede brought in renowned yoga expert Beryl Bender-Burch to teach breathing exercises to the many tired and terrified family members jamming the waiting rooms.
"They needed a respite," she said. "But there was no changing the horror."
*****

The Fire Commissioner
As head of the storied FDNY, Thomas Von Essen led a department through what would be both its finest and its darkest hour. Now 71, Von Essen had been appointed five years earlier by Mayor Rudy Giuliani.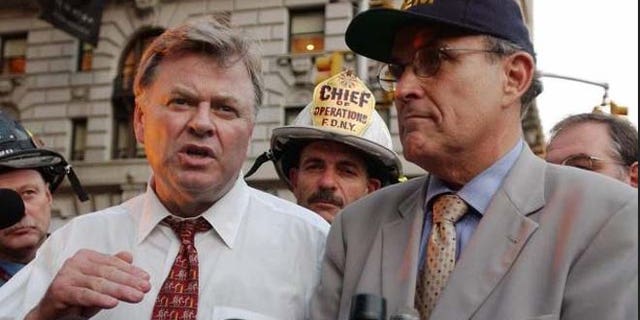 "I think about it, unwillingly, every day. It just pops into my head," Von Essen said. "The activity of that day was so incomprehensible that you just go through it doing the best you can, trying to make sense out of it."
One of the most haunting images for the Commissioner was that morning, watching Father Mychal Judge – the FDNY chaplain – standing in the lobby of the North Tower. Judge was one of 343 FDNY members to die that day.
"I was watching his lips moving and I guess he was praying and he watched the firefighters run up the stairs, really not knowing what they would find up there," he said. "We say that he was the first person from the fire department to die that day. That will always be the folklore, him being the first one in heaven welcoming all the heroes that had fallen that day."
In a 2002 memoir entitled "Strong Heart: Life and Death in the Fire Department of New York," Von Essen would chronicle 9/11, as well as many other dark and dangerous days that preceded it. He kept no mementos from 9/11, but regularly visits the Ground Zero memorial site.
"It's always painful," he added. "But the memorial is spectacular – a national remembrance of a horrific event and it is well done and appreciated."
*****

The Police Commissioner
Bernard Kerik had been running the NYPD for just over a year when the World Trade Center was attacked. By the end of the first exhausting day, his department would have lost 23 cops.
He watched from the street as workers trapped on the upper floors of the towers joined hands and jumped to their deaths. The images from that day, and the loss, pain and hard work that would follow has never left him.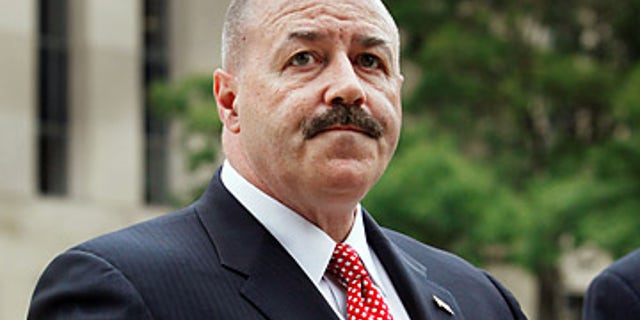 "Those memories will remain with us until the day we die," Kerik said. "I watched innocent civilians jump – one, two, and three at a time. With each generation after the attacks, our citizens become less vigilant. It is imperative every American knows what happened that day and realizes the overall threat against us."
That evening, Kerik met with the families of police officers and firefighters who were missing. He spoke to John Vigiano, a retired firefighter whose sons were, at that point, unaccounted for.
"His courage and strength was an inspiration for not only me, but everyone in that room," he recalled.
It would later be learned that John Vigiano Jr. a New York City firefighter, and his younger brother, Joe, an NYPD detective, both perished in the World Trade Center.
Kerik would later serve as interim interior minister in Iraq under President George W. Bush, who nominated him to be the second Secretary of Homeland Security in late 2004. The nomination was rescinded after reports emerged that Kerik hired illegal immigrants in his house. Kerik would later serve time in a federal prison for charges that included tax fraud, and was released in May, 2013.
In 2014 Kerik published the book "From Jailer to Jailed: My Journey from Correction and Police Commissioner to Inmate." He has since become an advocate of criminal justice reform and the need to avoid "over-criminalization" in the U.S prison system, as well as advocating for new strategies to "defeat radical Islamic terrorism."
"The events of 9/11 taught me never to take life for granted," he said. "That there is an enemy that we will be fighting for decades and that real leadership is the key to our success and survival."
*****

The Major General
On Sept. 11, 2001, Maj. Gen. Larry Arnold was Commander of 1st Air Force and of the Continental U.S North American Aerospace Defense Command (NORAD). During and after the attacks, it was the Vietnam veteran's responsibility to organize, equip and command hundreds of fighter, tanker and AWACS aircraft to circumvent potential attacks.
"My memories of that morning remain well ingrained in my consciousness not only for the tragic events, loss of life and our Air Force response, but for the emotions my team of airmen and I felt as we helplessly tried to thwart additional attacks," said Arnold, now 73.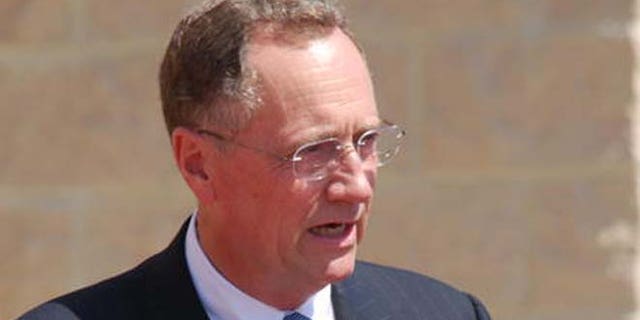 According to Arnold, just as the attack on Pearl Harbor remained instilled in the minds of the "Greatest Generation," which was inspired to fight and win World War II, "we need to unceasingly to remember the 9/11 attack."
"Our enemy this time, Islamic extremist or Jihadist – the enemy has a name – is of a different sort as we all know and shouldn't forget," he said. "They rely on terror and the mindlessly ruthless and indiscriminant killing of all people who they consider 'infidels' - non-Muslims and Muslims of a different sect equally."
Prior to his retirement in 2002, Arnold was also the commander of all military aircraft for Operation Noble Eagle – the U.S. military response to Sept. 11. These days, he is a consultant in the defense industry and President of the Arnold Group, aiding and supporting numerous government agencies and defense industry leaders in various areas from aircraft sales and strategic planning to Army and Air Force Missile systems and corrosion protection programs.
"I just hope we never forget those who died on that fateful day and continue to have the resolve to defeat those who hate us and our way of life," he said.
*****

The Survivors
It started as an ordinary Manhattan morning for businessman Edward Fine, who worked at Intercapital Planning, but when the towers were hit he was thrust into the international spotlight. He became known across the world as "The Dustman," after a photo of him covered head-to-toe in dust walking through the debris circulated around the world, and appeared on the cover of Fortune magazine a few days later.
"I don't have any particular feelings with regard to that photo, but it does serve as a constant reminder to me of that day… as if the day's events were not enough of a reminder in and of themselves," he said.
Fine noted that his memories of that day remain raw and real, but amid the chaos, he came across several people he now credits with saving his life.
"The woman who gave me the wet paper towel as we descended the stairs and which I later used to breathe through; the firefighters who were ascending the stairs as we were descending; the Catholic priest who put his hand on my shoulder and prayed for us as we lay on the street being covered by dust and debris," he said. "Then there was the bus driver who took us uptown… those people all come to my mind."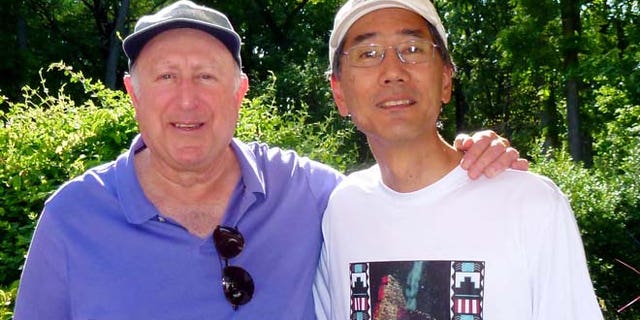 Today, Fine continues to work as a business consultant and views his mission in life to help narrow the income gap between the rich and poor. He and his son are developing the website www.Vc4all.com as "an opportunity for all Americans to invest in companies that up to now have usually been reserved for the ultra-wealthy and well-connected investors."
"Since 9/11, I have watched Americans miss out on some of the best investment opportunities because they didn't have enough money," he said. "It has been my mission to help America since this tragedy, and I believe I have found the best way."
Sept. 11 marked Rebecca Lazinger's one-year anniversary at Morgan Stanley. Now 38, she remembers rushing excitedly through the revolving doors to be at her office on the 74th floor of World Trade 2 before 9 a.m.
"I didn't make it up to my office," she recalled. "There was that impact moment and it was the loudest thing I had ever heard in my life. And everything went silent, followed by chaos and confusion."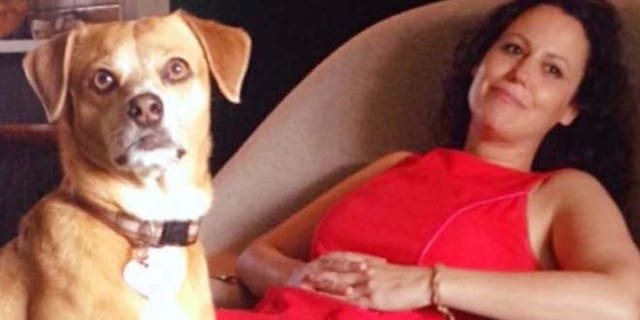 Lazinger remembers a man to her right screaming in the moments before he was killed by falling debris.
"I still had a coffee in my hand," she said. "Then I ran in the opposite direction, haphazardly through the courtyard. I wasn't thinking. I just started running. I collapsed on the floor and people started running to get out of the building. Somebody pulled me off the floor and dragged me out the door. That was the same time that the second plane hit. Then it became running for your life."
Lazinger would continue to work for Morgan Stanley for a couple of years following the tragedy, shuffling around to different offices attempting to get the company's database back in order.
"The temporary office we had was right across from St. Patrick's Cathedral on Fifth Avenue and there were funerals every day for the longest time," she said. "That music – the bagpipes. Still when I hear bagpipes, it just sends me into a weird place. Some particular smells and sights and sounds are alive. A garbage truck. The subway. It's a live memory. I still have nightmares three times a week."
Lazinger kept the thin, patterned Chinese slippers she got from a nearby deli after fleeing that morning. Last year, she gave them to her father.
"My grandparents were Holocaust survivors. He lived as the son of survivors," she explained. "He is the common thread."
New Jersey native Brian Branco was in his mid-thirties and owned his own small computer business on the 78th floor of the south tower on Sept. 11.
"I felt a little vibration, and thought something was happening above us," he recalled. "The plan was to go downstairs, see what was going on, and go back up. That was the plan I had with another guy, Stephen. We left, and he said he forgot something in his office... He didn't make it."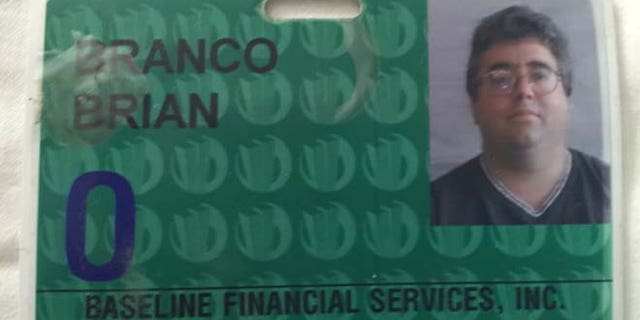 Branco doesn't remember leaving the building – but the vision of the "war zone" outside rings clear.
"I was a block away, walking up Church Street and to the left, there was a movie theater. As soon as I turned, I felt the hit," he continued. "I felt pressure from it; I felt heat from it. The federal building I was by rippled like in a movie."
Branco has kept several tokens from that ominous day – his building identification, ferry pass and a bank receipt –and has since gotten two 9/11 tattoos in honor of his friends who died. He still owns a small computer business, BNC Consulting, and does volunteer work – along with his wife and then eight-year-old daughter – at the museum.
"One thing I have learned is, don't sweat the small stuff," Branco said. "Enjoy every day because you don't know what will happen tomorrow. Appreciate your loved ones."
*****

The Masterminds
He was once one of Usama bin Laden's top deputies and is believed to have been the key mastermind behind the 9/11 attacks. Years earlier, the U.S.-educated, plane-crazed Khalid Sheikh Mohammed, 52, was a wanted man by U.S intelligence officials due to outspoken efforts to plot attacks against Americans.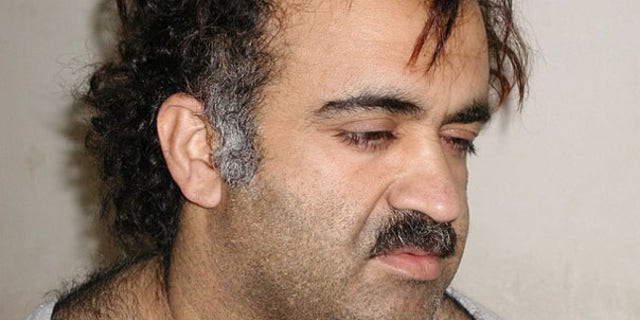 He was finally captured in March, 2003 in Pakistan – outed by an informant – and transferred to Guantanamo Bay detention camp in Cuba, where he has been held ever since on charges including murder in violation of the law of war, attacking civilians, conspiracy and intentionally causing serious bodily injury. In 2007, he confessed to being responsible for the operation, in addition to 29 others including the 1993 World Trade Center car bombing.
Mohammed remains at Gitmo awaiting trial for war crimes.
One of several players sometimes referred to as the "20th hijacker," Yemen-born Ramzi Bin al-Shibh is alleged to have wired money and passed pertinent information between Al Qaeda and the hijackers. The now 44-year-old was slated to take part in the Sept. 11 operation, but was denied a U.S. entry visa. Shibh was captured on Sept. 11, 2002, and was held at a CIA "black site" in Morocco before being moved to Gitmo in 2006, where he remains. His trial has been delayed multiple times, and as of 2014 military psychiatrists were said to be determining if he was fit to take the stand.
Anna Nelson, spokeswoman for the International Committee of the Red Cross, declined to comment on individuals, but told FoxNews.com that the ICRC visits the detainees on regular basis – four routine visits annually, each lasting two to three weeks, plus ad-hoc visits as necessary.
"During the visits, we are able to meet with the detainees on an individual basis and in-private. Each individual is free to agree or decline to meet with us," Nelson said. "We facilitate contact between the detainees and their relatives through written messages as well as phone calls and Skype-like video calls. Communications between the detainees and their relatives are monitored and censored by authorities. Our role is strictly to facilitate the contact."
And while the Gitmo detention facility has repeatedly come under the scrutiny of defense lawyers, human rights groups and much of the mainstream media, retired Army Colonel Gordon Cucullu argues that the likes of Mohammed and Shibh – who are held at the ever secretive Camp 7 – are treated not only humanely but with an almost groveling "understanding of their culture."
"'Infidel' Americans were not allowed to touch the Koran, for example. By giving in to this we simply validated the concept that we are lesser people and not good enough to meet their standards," he told FoxNews.com. "We went to extremes to furnish them halal food. Detainee meals were prepared with far more expensive and nutritious ingredients than the food provided to the Americans stationed at Gitmo and their meals varied more than the U.S menus."
Cucullu also observed that at the outset, there were probably detainees transported there who didn't need to be there and were sufficiently weeded out – but those remaining like Mohammed and Shibh – are all hardcore, committed terrorists.
"They will not change," he said.
Also known as the "20th Hijacker," French-born Zacarias Moussaoui, 48, is the only 9/11 suspected terrorist to have been tried in the United States. He took flying lessons at the same Oklahoma school hijackers Mohamed Atta and Marwan al-Shehhi attended, but his odd behavior prompted his flight instructor to notify the FBI. Moussaoui was arrested a month before the 9/11 attacks for an immigration violation, and months later, a slew of other charges including conspiracy to commit terrorism and to use weapons of mass destructions were added.
Having pled guilty, Moussaoui is currently serving six life sentences without parole at the Federal ADX Supermax Prison in Florence, Colo. The facility is home to the male inmates characterized as the most dangerous and in need of the tightest security. Moussaoui, along with other high-risk inmates, is said to be locked in his cell for 23 hours a day – one hour spared for recreational activity in an outdoor enclosure while flanked by armed guards and donning handcuffs, stomach chains and leg irons.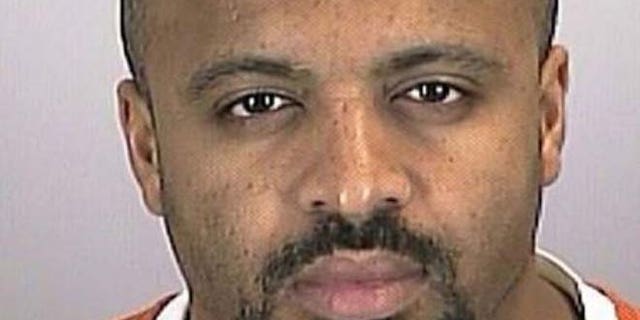 The Federal Bureau of Prisons was not able to comment on Moussaoui's current condition, citing privacy laws.
However, each 7-by-12 foot concrete cell has an immovable desk, stool, toilet and shower and walls are in place to stop prisoners from even seeing other prisoners. Even contact with security personnel is severely limited, with meals delivered through small cavities in the door.
Inside Moussaoui's cement box, just a slither of the sky can be seen from below.
Jamie Brennan contributed to this report