88-year-old Georgia man achieves dream of graduating college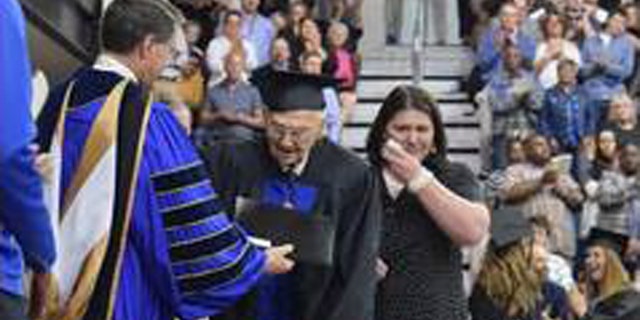 A Barnesville, Georgia man recently proved it's never too late to achieve your dreams.
Horace Sheffield, more commonly known as "Pop," has become an internet sensation after graduating from college at 88-years-old.
Mr. Sheffield graduated from high school in 1959 and enrolled at Shorter University in Rome in 1961; however, he never was able finish college and left in 1965. At the time, his oldest daughter, Judy, was about to begin college herself.
"My grandfather and grandmother were married young," Sheffield's granddaughter, Jill Brazier, told FOX 5 News. "They had kids and he ended up dropping out to help educate his own children."
Horace and Bernice Sheffield had three children together, five grandchildren and 15 great-grandchildren.
"He's a family man," Brazier said. "He took care of my grandma, grandkids and great-grandkids, but now it's time to focus on himself."
Brazier describes her Pop as an incredibly determined man, so she wasn't surprised when he told her he wanted to go back to school and earn his college degree.
"That's one thing in his life that he had never finished," she said.
Sheffield enrolled at Shorter University two years ago and was able to pick right back up where he left off, with 115 hours of study. Not only was his tuition free, but he was able to take all of his classes online.
According to Brazier, Amanda Brannock, who attends their church, played a huge role in helping him graduate. Sheffield had a week to complete assignments, which he would write down on paper. Then, Brannock helped him by typing them up and submitting them online.
"She's so proud," Brazier said. "We are very thankful for her."
Following countless hours of hard work, Sheffield earned his Bachelors of Science in Christian Studies and was a proud member of the 2017 graduating class.
"We are very, very proud of him," Brazier said. "It's been a long time coming."