8 Horses Killed in Arson Fire Officials Say Was Possible Hate Crime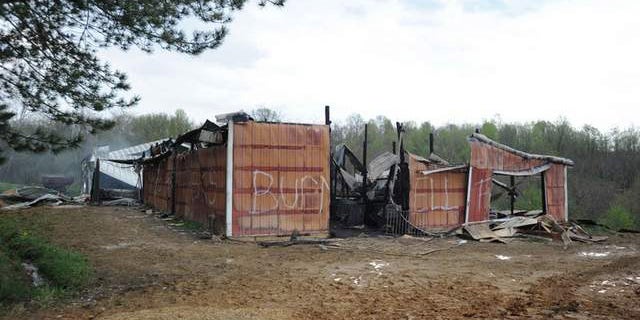 Eight horses were killed in an Ohio barn fire that officials say was an act of arson and possible hate crime against the barn's owner, who is gay, according to the New York Daily News.
The State Fire Marshal's Office said seven adult horses and a foal died in the Sunday night fire in McConnelsville in Morgan County. One of the horses was ready to give birth, the newspaper reports.
Fire marshal's spokesman Shane Cartmill said investigators are looking into messages that were painted on the barn prior to the fire.
Cartmill would not disclose the content of the messages, but says they were derogatory. The Daily News reports that they included messages like "f-gs are freaks" and "burn in hell."
Authorities say owner James B. Whitehouse called 911 when he saw the flames Sunday. The fire were so hot a tractor inside the barn melted, according to the Zanesville Times Recorder.
"The barn I can rebuild, but the bond I had with those horses can't be replaced," Whitehouse told the newspaper.
"Each one of them was so special ... I'd come home from a long day at the office and go to the barn and be with them for hours. They just knew how to relax me and make me laugh," he said. "I just don't understand someone wanting to kill innocent animals."
Chief Gary Woodward of the Malta-McConnelsville Fire Department says the quarter horses were used mostly for show purposes.
A reward of up to $5,000 is being offered to help find the person responsible for the fire. Anyone with information on the crime is being urged to call the fire marshal's office at (800) 589-2728 or the Morgan County Sheriff's Office at (740) 962-4044.
The Associated Press contributed to this report
Click for more on the Ohio horse barn fire from the Zanesville Times Recorder