8-foot king cobra on loose in Florida; school takes precautions
NEWYou can now listen to Fox News articles!
A school in Orlando kept its students inside Thursday while wildlife officials scoured the area for an 8-foot-long venomous king cobra on the loose that technically could kill up to 20 people with one bite.
Florida Fish and Wildlife Conservation Commission spokesman Greg Workman said the snake was reported missing from a nearby home Wednesday by its owner who was not named by authorities.
"We are moving all outside activities, including P.E. and recess, inside. And we will be relocating our portable classrooms into the main building," Clarcona Elementary School Principal Robert Strenth said in a voice message to parents, WESH.com reported. Clarcona is less than a mile from where the snake escaped.
The Orlando Sentinel reported that the house is owned by Mike and Valerie Kennedy. Mike Kennedy, who has experience in dealing with exotic animals, stars in the Discovery Channel show called "Airplane Repo."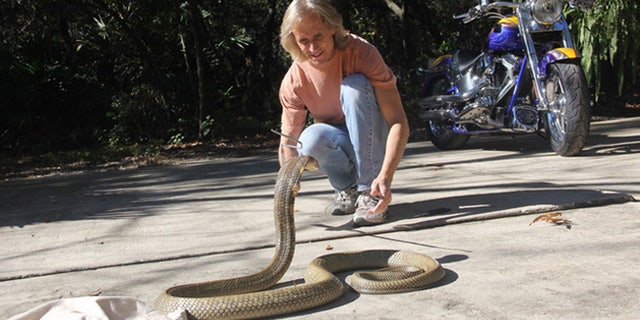 WESH reported that Mike Kennedy could face criminal penalties for not alerting authorities about the escaped snake right away.
Officials say the non-native, venomous snake is green and yellow. Officials believe that the snake would likely stay in densely wooded area.
"The chances of that snake actually biting someone are extremely remote," Carl Barden, the owner of the Reptile Discovery Center, told the paper.
Workman says the snake's owner has the proper permit to keep it as a pet and officials say the owner is an experienced snake handler.
Wildlife officials say they've been canvassing the area looking for the snake. Officials warn residents not to approach the reptile if they see it and instead urge them to contact the agency's alert hotline.
Judy Brown, a neighbor, told MyNews13.com that she was concerned about the snake thriving in the woods near her home.
"Snakes are extremely versatile and extremely good climbers, and so is this one," said Brown. "He's eight feet now, but could grow to 18. When are they going to quit looking, and will they find it? I just don't have any confidence they'll find it in that deep woods."
The Associated Press contributed to this report