60-year-old gorilla, 1st to be born in a zoo, dies in Ohio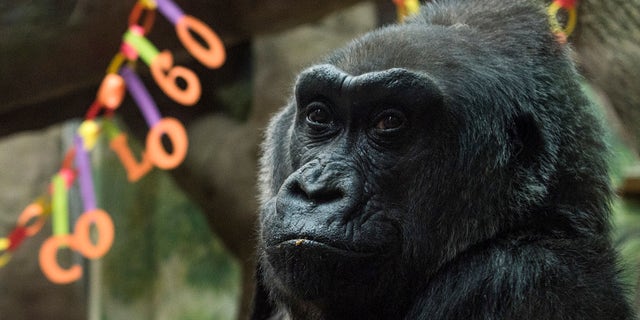 NEWYou can now listen to Fox News articles!
COLUMBUS, Ohio – The world's first gorilla born in a zoo, a female named Colo who became the oldest known living gorilla in the U.S., has died at age 60, the Columbus Zoo and Aquarium said Tuesday.
It said Colo died in her sleep overnight, less than a month after her birthday. She surpassed the usual life expectancy of captive gorillas by two decades.
"Colo touched the hearts of generations of people who came to see her and those that cared for her over her long lifetime," zoo president Tom Stalf said in a statement. "She was an ambassador for gorillas and inspired people to learn more about the critically endangered species and motivated them to protect gorillas in their native habitat."
The zoo said the gorilla's body will be cremated and the ashes will be buried at an undisclosed location at the zoo.
THE EVOLUTION OF RINGLING BROS. CIRCUS FROM FREAK SHOW TO BIG TOP
Colo was born at the zoo on Dec. 22, 1956. She eventually became a mother of three, grandmother of 16, great-grandmother of 12 and great-great-grandmother of three.
Hundreds of people had gathered at the zoo last month to see Colo for her birthday, when the zoo decorated her enclosure with multicolored construction paper chains and cakes of squash and beet and cornbread with mashed potato parsley frosting.
Zoo officials said a post-mortem examination was planned to determine Colo's cause of death.
They had recently removed a malignant tumor from Colo, but had said she was doing well. The necropsy could help show whether the cancer contributed to her death, but the results aren't anticipated for several weeks.
Zoo officials said they also planned to take blood and tissue samples to assist with zoologists' efforts to learn more about western lowland gorillas.