6 people shot, 2 of them fatally, following dispute outside New York church during funeral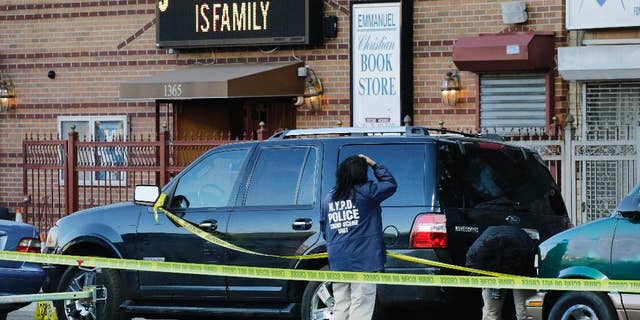 NEW YORK – A dispute outside a New York City church where a funeral was taking place triggered a shooting which left two people dead and four others injured, police said.
Authorities said 15 rounds were fired outside Emmanuel Church of God in Brooklyn's East Flatbush neighborhood around 8:30 p.m. Monday where mourners had gathered for the funeral of a 38-year-old man who died of natural causes.
Four men and two women were struck by gunfire. Two men died, one person was in critical condition and the others were expected to recover, police said. Most were in their 30s and 40s.
Police believe there were multiple shooters. They said shots were fired from in front of the church and from the crowded church. It was not known how many bullets hit the church.
Several cars sped away after the shooting and no arrests have been made. Police said a silver vehicle seen near the church was stopped in a different Brooklyn neighborhood.
City Councilman Jumaane Williams, whose district includes East Flatbush, told WABC-TV that the shooting was a "reckless" abandonment of life.
"If we can prevent retaliatory shootings from this particular shooting I think we will have something positive to talk about," he said. "My hope is that the law enforcement will be able to do their job and hold the shooters accountable."
Investigators were examining surveillance video and interviewing witnesses early Tuesday.