5-year-old Chicago boy shot in 2016 shoots himself in hand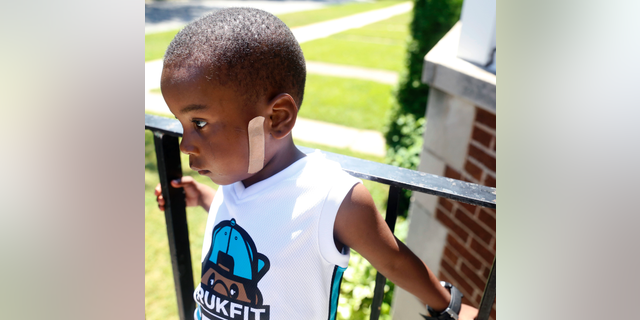 CHICAGO – A 5-year-old boy who was struck in the face last year by a stray bullet fired during a drive-by shooting accidentally shot himself in the hand this week with a gun his father had obtained illegally, Chicago police said Wednesday.
Kavan Collins found the loaded, uncased gun under a mattress in an upstairs bedroom and shot himself Tuesday evening in the finger, police said.
The boy's father, Kevin Collins, was arrested late Wednesday on several felony gun charges and six misdemeanor counts of child endangerment. Police said the 25-year-old convicted felon's gun had a defaced serial number — something that is commonly done to illegal guns to make them more difficult to trace.
Collins is expected to appear in bond court on Thursday.
The child was listed in good condition at Comer Children's Hospital — the same hospital the boy was taken to in June 2016 when he was shot in the face as he and his mother walked down the street on the city's South Side.
The boy's mother, D'Antignay Brashear, told The Associated Press last year that she was holding the boy's hand when she heard the sound of gunfire and looked down to see a bullet had fractured her son's jaw and shattered some teeth before it went out his other cheek.
"I don't know how to explain it to him," the mother told the AP for a story last July about children who are victims of Chicago's gun violence. "How do you tell a kid, 'Oh, you got shot.'"
Police said a 28-year-old woman inside a residence was also struck in the shooting, which happened when someone fired from a passing vehicle. Police said neither the woman nor Kavan were the intended target.