400 Philadelphia commuter rail workers go on strike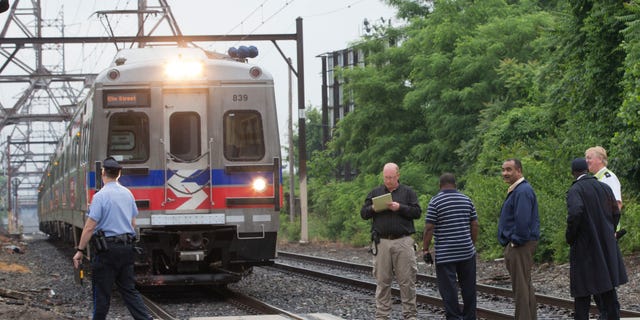 NEWYou can now listen to Fox News articles!
Four hundred workers at a Philadelphia-area regional rail system went on strike Saturday morning, shutting down 13 train lines that carry commuters to the suburbs and Philadelphia International Airport.
The strike began after negotiations between the Southeast Pennsylvania Transportation Authority and two unions failed to reach a new contract deal.
Subways, trolleys and buses operated by SEPTA will continue to run.
The strike will affect hospital, airport and retail workers, although the full effect would not be felt until Monday's rush hour.
Philadelphia International Airport was trying to help employees and travelers make contingency plans, including bus options and carpools.
"We can't foresee who needs what assistance, but we certainly have reached out to people," spokeswoman Victoria Lupica said. "We're certainly hoping that everything is resolved and there isn't a strike."
The labor conflict came to a head this week after SEPTA announced it would impose a deal beginning Sunday. Terms include raising electrical workers' pay immediately by an average of about $3 per hour; the top wage rate for locomotive engineers would rise by $2.64 per hour.
Stephen Bruno, vice president of the Brotherhood of Locomotive Engineers and Trainmen are seeking raises of at least 14.5 percent over five years -- or about 3 percentage points more than SEPTA has offered.
The last regional rail strike, in 1983, lasted more than three months.
Gov. Tom Corbett is counting on negotiators to reach an agreement and keep the trains running, spokesman Jay Pagni said.
President Obama could also appoint a Presidential Emergency Board to intervene in the negotiations and prevent a strike for up to 240 days.
SEPTA, meanwhile, is planning to have extra subway cars and trolleys in service.
The strike adds to commuting headaches in the region, where major construction projects are making it more difficult than usual to get around.
The lines carrying PATCO commuter trains between Philadelphia and southern New Jersey are being replaced over the Ben Franklin Bridge, affecting not only the train schedule but also car traffic on the busy bridge.
Emergency work on a bridge on Interstate 495 in Delaware is expected to keep a stretch of that thoroughfare closed at least through the summer, and is forcing additional traffic onto I-95. Additionally, work is scheduled to begin next week on I-95 just north of downtown Philadelphia.
The commuting difficulties could be reduced a little as summer vacation season ramps up. But that could create problems for another group.
"Along with the effects to commuting, summer travelers also have to adjust their plans," AAA Mid-Atlantic spokeswoman Jenny Robinson.