4-year-old asks mall Santa to pray for ailing baby the boy has never met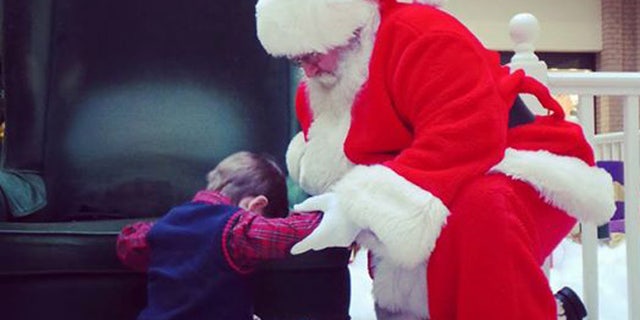 A 4-year-old South Carolina boy touched hearts around the world when he told a mall Santa that his Christmas wish list included Santa's prayers for a baby on life support in Las Vegas.
Prestyn Barnette met Santa at the Dutch Square Mall in Columbia., S.C., a week ago. First, the shy little boy asked for a toy train. Then he asked St. Nick to pray for Baby Knox, a 2-month-old being kept alive on a respirator. Prestyn learned about the infant through his grandmother's Facebook prayer group.
"Santa said we will pray now and he got down and prayed," the grandmother Robin Sharpe told WIS-TV. "There were many bystanders there that day. They just stood some of them, just bowed their head and prayed."
Prestyn's aunt, Rebekah Lauren Sharpe, snapped a shot of the boy praying with Santa and posted it on Facebook. The photo went viral.
The family of Baby Knox Joseph sent out a request for prayers on Facebook after the newborn was found unresponsive in his crib on Nov. 30, the station reported. Knox had stopped breathing.
The family wrote on their GoFundMe page that doctors advised them to take the baby off life support, but the family decided to keep fighting, ABC's New York affiliate reported Tuesday.
The family posted Rebekah Sharpe's phot on its Team Knox Joseph Facebook page. The story has generated more than 1,300 likes and numerous comments.
"I seen this post on a friend's timeline and I followed the link to your page," one commenter, Margaret Massey Elmore, wrote. "I am praying for your precious little one Knox."
Tuesday, according to WIS, Prestyn went to Build-A-Bear Workshop, creating a special gift for Knox.
"We wanted to send him something he can hear, feel and let him know we were there," Rebekah Sharpe told the station.