4-nation drills postponed after craft runs aground on Guam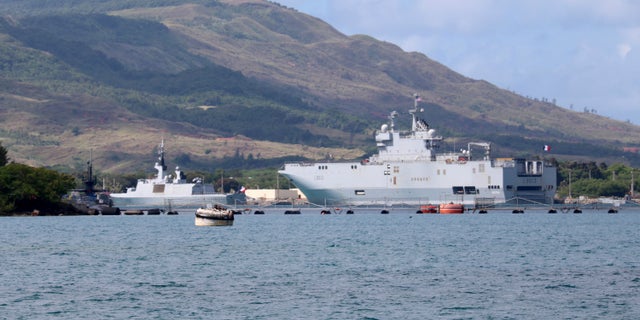 NAVAL BASE GUAM – Military drills on Guam in which four countries were to practice amphibious landings and moving their troops have been postponed indefinitely after a French landing craft ran aground Friday.
The weeklong exercises involving the U.S., U.K., France and Japan were intended to show support for the free passage of vessels in international waters amid concerns China may restrict access to the South China Sea.
The French landing craft ran aground just offshore and didn't hit coral or spill any fuel, said Jeff Landis, a spokesman for Naval Base Guam. No one was injured. Friday's landing was meant to be a rehearsal for a drill at Tinian island on Saturday, Landis said.
U.S. Navy Capt. Jeff Grimes, chief of staff for Joint Region Marianas, said the authorities involved were working to assess the situation and didn't know when the drills would resume.
"I have directed that we stop all operations associated with this exercise until we conduct a further assessment of the situation as we gather all the facts," Grimes said.
"NOAA in Honolulu is aware and is collecting information about the incident," said Michael Tosatto, administrator of a National Oceanographic and Atmospheric Administration regional office.
The drills around Guam and Tinian islands were scheduled to include amphibious landings, delivering forces by helicopter and urban patrols.
Two French ships on a four-month deployment to the Indian and Pacific oceans were to be involved. Joining were Japanese forces, U.K. helicopters and 70 U.K. troops deployed with the French amphibious assault ship FS Mistral. Parts of the exercise were to feature British helicopters taking U.S. Marines ashore from a French vessel.
China claims virtually the entire South China Sea and has tried to fortify those claims by building islands — some with runways, radars and weapons systems — on seven mostly submerged reefs. The reclamation work is opposed by other governments that claim the atolls and by the United States, which insists on freedom of navigation in international waters.
China says its work is intended to improve safety for ships and meet other civilian purposes. It has said it won't interfere with freedom of navigation or overflight, although questions remain on whether that includes military ships and aircraft.
This week members of the Senate Foreign Relations Committee expressed concern that the U.S. hasn't conducted freedom-of-navigation operations since October. Republican Bob Corker, Democrat Ben Cardin and five other senators wrote the letter to President Donald Trump, saying they supported a recent U.S. military assessment that China is militarizing the South China Sea and is continuing a "methodical strategy" to control it.
The letter, dated Wednesday and obtained by The Associated Press, urged the administration to "routinely exercise" freedom of navigation and overflight.
Japan, which sent 50 soldiers and 160 sailors and landing craft, has been investing in amphibious training so it can defend its own islands. Japan controls a group of rocky, uninhabited outcrops in the East China Sea that Beijing also claims. Japan calls the islands Senkaku while China calls them Diaoyu.
Japanese defense officials said they were waiting for further details, including what happens to the rest of the exercise in Guam, from the U.S. side. The four militaries were to move to the Tinian islands for more training next week.
Guam and Tinian are about 1,500 miles (2,400 kilometers) south of Tokyo and about the same distance to the east from Manila, Philippines.
___
This story has been corrected to describe the French vessel as a landing unit, instead of a twin-float catamaran.
___
McAvoy reported from Honolulu. Associated Press writer Matthew Pennington in Washington and Mari Yamaguchi in Tokyo contributed to this report..