4 Florida school shooting victims to be honored at Marjory Stoneman Douglas High School graduation
NEWYou can now listen to Fox News articles!
Four Marjory Stoneman Douglas High School seniors who were among the 17 people killed during the Valentine's Day massacre will be honored during Sunday's graduation ceremony.
The diplomas for Nicholas Dworet, Joaquin Oliver, Meadow Pollack and Carmen Schentrup will be presented to their families during the ceremony for the graduating Class of 2018. The graduation for the 784 seniors will be held at BB&T Center, where the National Hockey League's Florida Panthers play.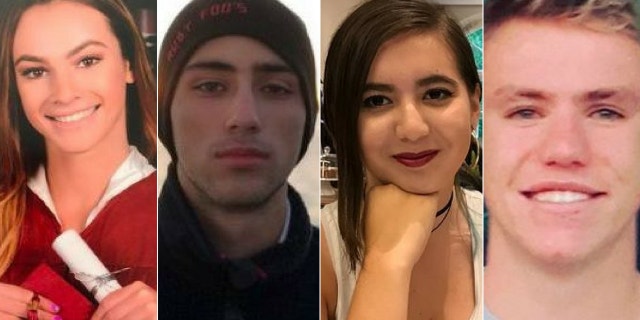 A larger than normal crowd is expected for the ceremony — but not all the parents of the four students killed will be attending. Andrew Pollack, father of Meadow, said he won't be attending the graduation because it's too tough for him to bear. He had attended the senior prom in May in honor of his 18-year-old daughter.
"I did enough with the prom. It almost killed me," he told the Sun Sentinel.
April and Phil Schentrup also will not attend the ceremony.
"I hold [the Broward school district] responsible for my daughter's death," April Schentrup said. "Why would we go and celebrate with them?"
'SHE CAN WALK THE STAGE WITH US': FL SCHOOL SHOOTING SURVIVORS TO HONOR VICTIMS AT GRADUATION
Manuel Oliver, the father of Joaquin, had a different response. He said his family will be attending the graduation in honor of his son's memory. He said his wife, Patricia, will be accepting the posthumous diploma for his son.
"I'm not sure of the school's plans. We'll see what they have in store," Oliver said.
School officials have not released details on how the school shooting victims will be memorialized. The Broward School District is keeping the event private. Only invited guests will be admitted and the media has been barred from inside the arena.
PARAMEDICS ASKED 6 TIMES TO ENTER PARKLAND SCHOOL DURING SHOOTING BUT WERE REBUFFED, NEW REPORT SAYS
Demitri Hoth, 18, a Stoneman Douglas senior, said Sunday's event won't be easy for the seniors. He said he respects the four families' decisions on whether they come to the ceremony or not.
"For those that come, we'll stand with them and give them all our support," he told the Sun Sentinel. "And for those that don't, we'll send our love and hopes for their healing."
Fourteen students and three staff members were killed when gunman Nikolas Cruz opened fire inside a building. Cruz was charged with premeditated murder and attempted murder. His attorneys have said he will plead guilty in exchange for a sentence of life without parole. Prosecutors are seeking the death penalty.
The Associated Press contributed to this report.