4 dead, 8 injured after suspected drunk driver plows into bus stop in Vegas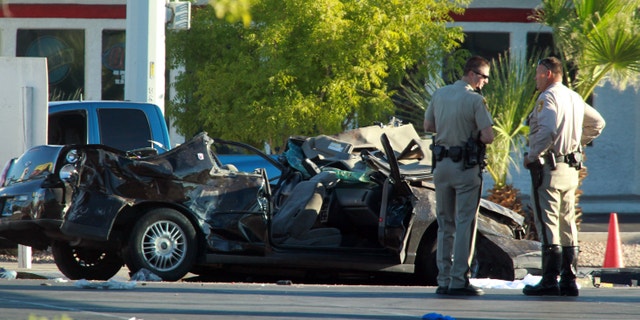 LAS VEGAS – A Las Vegas man faces four counts of driving under the influence resulting in death after his speeding car rolled over Thursday and plowed into a Las Vegas bus stop, killing four pedestrians and injuring several other people.
The Thursday morning crash killed three women and a man waiting at the bus stop, police said. Three others at the stop and five people in the car were injured.
"It's a pretty horrific scene out here," Las Vegas police officer Laura Meltzer.
The crash occurred shortly before 6:30 a.m. PDT when the car went out of control and left the roadway as going through an intersection.
"The vehicle began to roll over as it struck a total of seven pedestrians sitting on/near a bus bench," police said in a release
Driver Gary Lee Hosey Jr., 24, was hospitalized in serious condition. Police said Thursday night that he was booked in absentia on four counts of DUI-death.
The dead -- women ages 47, 49, and 65, and a 24-year-old man -- were all Las Vegas residents but their names were being withheld pending notification of relatives, police said.
In addition to Hosey, four passengers in his car and three others waiting at the bus stop were also injured. Police said one person suffered minor injuries, while the others were hospitalized with injuries ranging from serious to critical.
At least some of the occupants had to be removed from the vehicle, police said.
Debris and sheet-covered bodies remained on the scene several hours after the crash. Roads were shut down well into the afternoon as investigators worked to piece together the chain of events along the busy business corridor lined by fast-food restaurants, strip malls and gas stations two miles west of the Las Vegas Strip.
A police officer who was fueling his vehicle at a nearby convenience store watched as the car appeared to lose control and bottom out on a downward slope before leaving the pavement and slamming into the bus stop, according to police Sgt. Richard Strader.
"First responders said they smelled alcohol, and he even said something to the effect that he had been drinking," Strader said.
The vehicle, which came to rest in a fast-food restaurant parking lot, was so mangled that authorities initially had difficulty determining its make and model.
The driver has a collapsed lung and possibly a broken back, according to police.
Meltzer said some of the victims were dismembered. The bus stop was flattened and its roof landed 15 feet from the spot where the structure once stood. Newspaper stands and concrete littered the scene.
"It's so tragic because this is preventable," Meltzer said. "This person made a choice" to drive under the influence.
The four deaths brought the number of people killed in traffic accidents in Las Vegas police jurisdiction to 83 this year.