4 dead, 2 injured as plane hits Southern California homes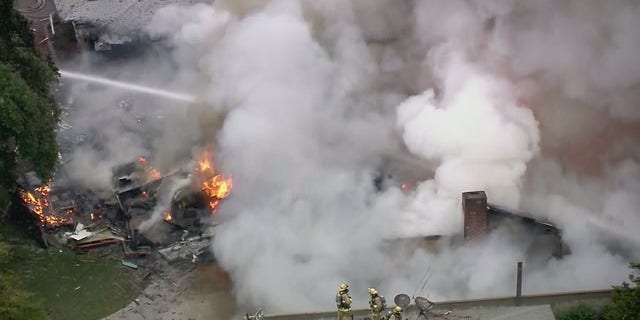 A small plane crashed into two houses in Riverside, Calif., Monday evening, killing at least four and injuring two others.
The Cessna 310 aircraft crashed shortly after taking off from Riverside Municipal Airport. The Federal Aviation Administration (FAA) said the plane was bound for San Jose.
Riverside Fire Chief Michael Moore said the Cessna's occupants, a husband, wife and three teenagers, were returning to San Jose on Monday after a weekend cheerleading conference at Disneyland.
Moore says one of the teenagers, a girl, was thrown from the plane on impact and had only minor injuries. She was able to talk to firefighters about what had happened as she was taken to a hospital.
An unconscious victim from one of the homes is in surgery.
Riverside Police Lt. Charles Payne told Fox 11 that four people were on the plane and the pilot was extricated from the crash. Riverside fire Capt. Tyler Reynolds said two additional victims were pulled from one of the houses that caught fire. It wasn't immediately clear whether the dead person was from the house or the plane.
Three witnesses said they saw a woman claiming to be the pilot crawl from one of the houses with her clothes on fire.
H.L. Reyes, who lives about a quarter-mile from the crash site, said she felt the ground shake and saw plumes of black smoke.

"I thought it was a possible earthquake, and we heard all the birds just suddenly react outside, too," Reyes said. "Every time an engine sputters, I'm afraid ... This was just like a nightmare coming true."
Video from a news helicopter showed plane wreckage and at least one home engulfed in flames about a half-mile northeast of the Riverside airport. The video also appeared to show a person being loaded onto a stretcher and removed from the home.

At least one of the homes was engulfed in flames and nearly destroyed. The plane's propeller appeared to be left sitting on the roof of a nearby home. Firefighters were still putting out hotspots from the ferocious fire nearly two hours after the crash.

Police said that approximately 30 residents of nearby homes were evacuated and taken to a nearby community center.
The Associated Press contributed to this report.