4 Dead, 1 Wounded After Grandmother Opens Fire at Seattle Home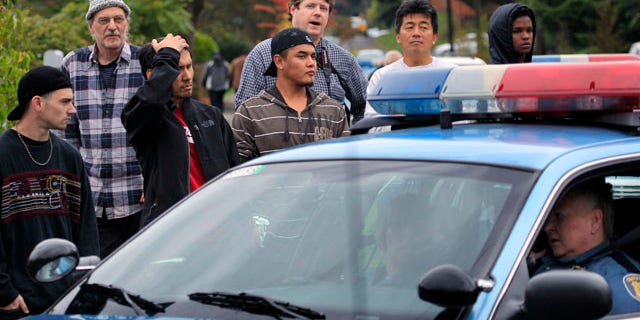 NEWYou can now listen to Fox News articles!
A woman fatally shot three people and herself at a Seattle home Thursday, injuring another woman who fled into the front yard and told officers: "My mom has gone crazy," police said.
The woman who opened fire was a grandmother who first killed her son-in-law, then two granddaughters and then wounded her daughter as the younger woman fled, a 17-year-old relative told The Seattle Times.
"Grandma just shot them for no reason," Tony Sun told the newspaper. Sun said he arrived home shortly after the shootings and was taken onto a police bus with his surviving family members, who told him what had happened.
Neither police nor the King County medical examiner's office have officially identified the victims. Police spokesman Sean Whitcomb says officers have not determined a motive.
Officers responded to a report of gunshots at about 1:30 p.m. and could still hear shots being fired from the house when they arrived, Whitcomb said. A man in his 50s ran into the house. Two more shots were fired and he ran back out, telling officers his wife had shot herself.
When police were able to go inside, they found the four dead, including a woman in her 50s they believe was the shooter, Whitcomb said.
He said police don't believe anyone else was involved.
Assistant Police Chief Jim Pugel said the wounded woman -- who is expected to survive -- was able to speak to officers when they arrived.
"All she said was, 'My mom has gone crazy,' " Pugel said.
In addition to the older woman, the dead included two young women in their teens and a man in his 30s, police said.
Sun identified the older woman as Chhouy Harm.
He told The Times the wounded woman was Thyda Harm and added that the dead included her husband, Chean Harm Phan, and two of their daughters, Jennifer Harm, 17, and Melina Harm, 14.
The wounded woman was in serious but stable condition at Harborview Medical Center, hospital spokeswoman Susan Gregg-Hanson said Thursday afternoon.
Whitcomb said police would not release the names or ages of the deceased Thursday, adding that the information would come from the medical examiner. A medical examiner's investigator said no formal identifications were expected before Friday afternoon.
The Times reported that Sun and other relatives confirmed the names.
According to Tony Sun's account, his aunt, Lisa Sun, 28, was upstairs when Chhouy Harm told her to go into her room and shut the door. She did, but waited at the door. Then she heard gunshots and ran downstairs and out of the house. She was followed by Thyda Harm's 16-year-old son, who scooped up his 6-year-old sister and fled, Sun said.
Police said two handguns were recovered from the house in a lower middle-class neighborhood a block north of southwest Seattle's city limits.
Neighbor Bobby Miller told KOMO that police showed up almost immediately after the shots were fired.
"I just heard gunshots. I come out and cops were all over," Miller said. "Just 'bam, bam' and that was it. Then screaming over here."
Travis Rowland, 53, said he was about a block away waiting to get his truck repaired at an auto shop when he saw a woman run from the house hollering.
As police arrived, Rowland said, a man "busted away from the police officers and ran into the house." Rowland said the man was inside for about 10 to 15 seconds before "there were a couple more shots, pow, pow, pow. At first I didn't know who was shooting. He came back outside."