3-year-old named honorary deputy because of his adorable salute during fallen cop's funeral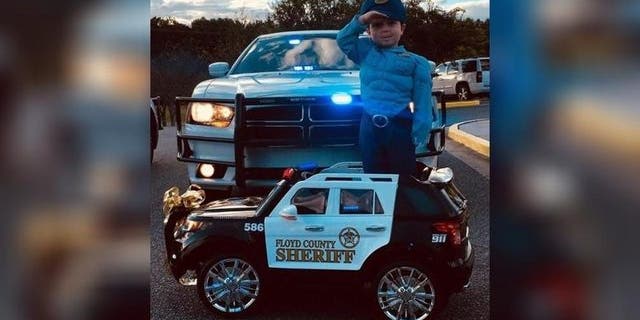 A 3-year-old aspiring police officer wanted to honor one of his heroes.
Cohen Chastain heard that a Polk County police officer, Detective Kristen Hearne, 29, was killed while responding to a call about a stolen vehicle.
In an endearing gesture, the 3-year-old showed up at her funeral procession in cop superhero uniform and saluted every officer that passed by him, WSB-TV reported.
"Cohen has always looked up to police officers. He is so sweet and has always had the biggest heart," said Cohen's mother, Mandy Brooks Chastain. "He loves superheroes and thinks of police officers as real life superheroes."
And while it's tough to get a 3-year-old to sit still for five minutes, little Cohen was so moved by the event that he stood at attention, on a stool, for two hours.
"He made us so proud," his mother said.
OFF-DUTY WEST VIRGINIA POLICE OFFICER WOUNDED IN SHOOTING
Cohen's mother wasn't the only one impressed by Cohen's actions. The Floyd County Sherriff's Office, where Hearne started her career, noticed little Cohen's adorable salute and wanted to reward him for his dedication.
On Tuesday, the officers presented the 3-year-old with an electric toy police car, complete with flashing red and blue lights and a personalized "Deputy Cohen" sticker on the front. They also gave the family a framed photo of Cohen saluting at the procession.
Cohen excitedly drove his new toy and recited the pledge of allegiance, rousing applause and "good jobs!" from the officers.
"We wanted to bless Cohen for his selfless act of support and love," The Floyd County Sherriff's office wrote in a Facebook post. "But, once again, we were blessed by him beyond measure. God bless you abundantly and keep you safe Cohen!"
NYPD OFFICERS CHARGED IN ALLEGED RAPE
Chastain said her son was beyond excited about the recognition.
"He truly loves every single one of you," she wrote in a Facebook comment. "He has not stopped talking about meeting everyone. He cannot wait to ride in his police car again tomorrow."
The slain detective also had a 3-year-old son.