3 admitting to tormenting CA teen get 30 years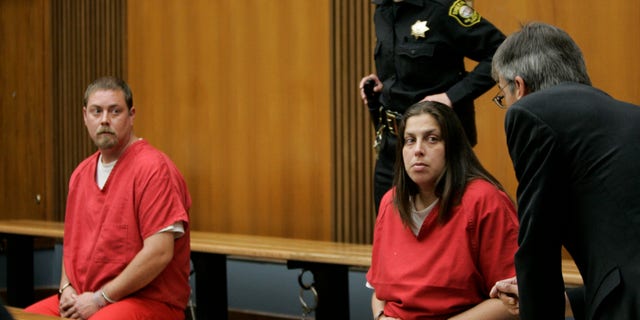 STOCKTON, Calif. – Three adults who admitted to beating, burning and holding a teenager captive inside a Central California home for more than a year will each spend at least 30 years in prison.
Michael Schumacher, 36, his wife Kelly Lau, 32, and the teen's then-legal guardian Caren Ramirez, 45, learned their fates Monday during their sentencing in San Joaquin County Superior Court after each pleaded guilty in October to more than a dozen felonies committed against Kyle Ramirez.
Sydney Perry, the boy's aunt, stared down and admonished the tormentors directly during her emotional statement to Judge Terrence Van Oss.
"My family waited two years for this day to face you sadistic, demented monsters who tortured and abused Kyle every day. Every day," Perry said. "And where you're going, you're going to be with monsters just like you."
Perry was especially harsh towards the victim's former guardian, who brought the then-16-year-old to live in the Tracy home of Schumacher and Lau as the abuse began in late 2007.
"You're an evil and dispicable woman," she told Caren Ramirez. "You're trash and you should've been taken out a long time ago. Today is your day to be taken out."
Van Oss then handed down the lengthy sentences: 34 years for Caren Ramirez, 33 years for Lau and 30 years for Schumacher. The terms were the maximum allowed under their plea deals.
"There really is no explanation for this. I just can't imagine what was going through these folks' minds," Van Oss said. "All the words in the world are not going to do any good."
As part of their agreement, prosecutors withdrew a charge of torture, which could have led to life in prison.
A fourth defendant, Anthony Waiters, 31, the next-door neighbor of Schumacher and Lau, was convicted at trial last month. He faces life in prison when he's sentenced Jan. 18.
Kyle Ramirez testified during Waiters' trial that he fled the home after hearing Schumacher and Waiters saying they were going to "chop me up and throw me in the delta." He recalled that he escaped by running through a backyard, jumping on a trampoline, hopping a retaining wall and stumbling into the nearby health club.
A recently released video shows the frightened, emaciated teen covered in soot and bruises entering the club hunched and clutching a chain strapped to his ankle, stunning employees who called 911.
He would later tell police that he had been beaten, burned, cut, chained to a table, denied food and forced to sleep in a fireplace. Four children of Schumacher and Lau, a former Girl Scout leader, also lived in their two-story home but were not mistreated, authorities said.
Kyle Ramirez, who's now 18 and has undergone a significant growth spurt since being starved in the Tracy home, was surrounded by family and friends in the courtroom Monday. He chose not to speak during the sentencing.
The defendants also did not speak. At one point, Lau stared at Kyle Ramirez, began crying and bowed her head while the other two defendants sat grim.
Their attorneys also declined to comment.
Prosecutor Angela Hayes said Monday that she's "dumbfounded," and still can't explain two years later why the abuse occurred.
"I just know there are four people in the world who should have never met," Hayes said. "Somehow or another they were on some odd level — mental level — that they were able to do this."
Kyle Ramirez's aunt, Sydney Perry, said in court that her nephew is resilient.
"He survived. He is loved. He is respected and he will never be hurt again by these people," Perry said. "He will overcome, he will succeed in life and he will heal.
"And those people will rot in hell."