28 injured, 4 critical, in Southern California commuter train collision with truck
At least 28 people were injured, including four critically, Tuesday morning when a Metrolink commuter train collided with a tractor-trailer truck on the tracks in Ventura County, northwest of Los Angeles.
Oxnard police Sgt. Denise Shadinger said the crash was reported at 5:44 a.m. Shadinger said the truck became fully engulfed in flames. Authorities described the scene as a multi-casualty incident.
The 54-year-old driver of the truck, identified as Jose Alejandro Sanchez Ramirez, was later arrested on suspicion of felony hit-and-run.
Assistant Police Chief Jason Benites said at a news conference Tuesday afternoon that Ramirez, from Yuma, Arizona, had been taken into custody.
Benites said the driver abandoned the commercial truck and was found about 1 1/2 miles away in apparent distress.
Authorities at a morning news conference said many of the victims were treated for head and extremity injuries. The train, which has a cruising speed of about 79 miles per hour, was traveling 'significantly' slower at the time of impact, an official said.
VIDEO: Truck driver fled scene of commuter train derailment
"The conductor noticed the car early and established emergency protocol. He anticipated the crash from a far distance," Oxnard Fire Battalion Chief Sergio Martinez said.
The train carrying 51 passengers was heading from Ventura County to Los Angeles. The stretch of track 65 miles from Los Angeles where the collision occurred was straight, and that allowed the conductor to see the truck on the tracks and begin braking, fire officials said.
The collision toppled three passenger cars. A fourth car was derailed but remained upright, along with the engine.
A news helicopter showed firefighters treating numerous people at the scene. Tarps were lying on the street and firefighters were treating victims. Little was left of the truck but scorched and mangled wreckage -- some debris was in a nearby intersection and some close to the tracks.
Metrolink's website said the train was on a run from Ventura County to Los Angeles.
Emergency vehicles could be seen treating some passengers at the scene, while other passengers could be seen being wheeled on stretchers.
The Los Angeles Times reported that in 2008, a train traveling on the same route was involved in a crash that killed 25 and injured 135.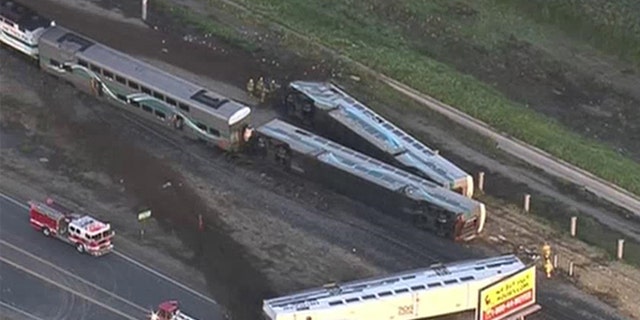 The National Transportation Safety board announced it was sending a team to investigate the crash.
The Associated Press contributed to this report