$26G worth of rare, expensive bourbon swiped from Ky. distillery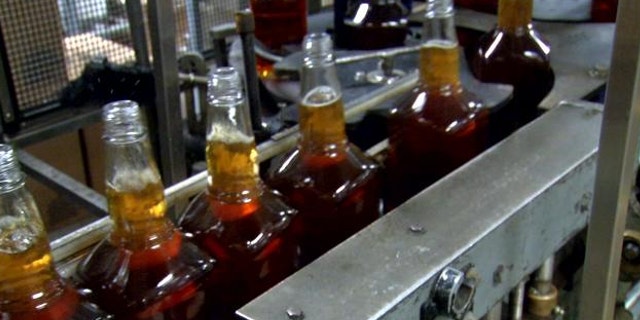 More than $25,000 worth of one of the rarest and most sought-after bourbon's produced in Kentucky is missing in what investigators believe was an inside job.
About 65 cases of 20-year-old Pappy Van Winkle bourbon were swiped from a secure area at Buffalo Trace Distillery's Frankfort operations, Franklin County Sheriff Pat Melton said.
Melton told The Courier-Journal whoever stole the bourbon walked off with about $26,000 of the limited stock. That's about $25,350 in 3-bottle cases of 20-year-old Pappy and about $675 in nine cases of 13-year-old Van Winkle Family Reserve rye.
Melton told the Lexington Herald-Leader the bourbon retails for about $130 a bottle and is worth "$300 or $400 a bottle" on the secondary market.
"This is the mac daddy," said Melton, who doesn't drink bourbon but is well aware of Pappy's cachet.
Investigators in the case told WDRB.com the theft may have been an inside job. At least 50 employees have access to the area, though no suspects have been identified.
Spokesmen for the Buffalo Trace and the Van Winkle office did not return calls from The Associated Press seeking comment.
Pappy is one of the nation's most sought-after bourbons, with a reported production of only about 7,000 cases a year at Buffalo Trace for the Old Rip Van Winkle Distillery. The bourbon is aged 20 years and bottled at 90.4 proof.
Melton said there have been previous theft reports from Buffalo Trace, but not many.
"Their internal controls are pretty good," he said, "and that's why it's been very, very rare for it to happen."
The Associated Press contributed to this report.