23 illegal immigrants, 250 pounds of weed found in semi-trailer in El Paso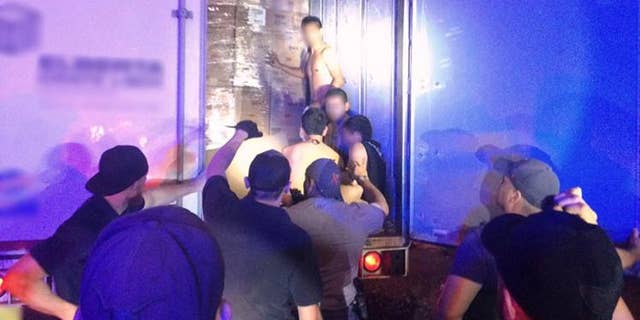 ICE has arrested the driver of a tractor-trailer and a passenger Wednesday, after they were found with 23 illegal immigrants and 256 pounds of marijuana in the truck.
The arrests were made on Interstate 10 near the city limits by ICE's Homeland Security Investigations unit.
There were 18 adult males and two unaccompanied boys in the trailer; there were also two women and another man in the sleeper cabin. Three of the immigrants were from Guatemala and 20 were from Mexico. The immigrants are in federal custody pending disposition of the immigration cases, according to ICE.
In addition to the immigrants, agents also found 256 pounds of marijuana in the sleeper cabin.
The driver, Comothial Harper, 44 of Bainbridge, Ga., was arrested and charged with transporting illegal aliens for financial gain, investigators said. They added that the passenger, Gerardo Aguilar-Roque, 35, was arrested and charged with possession with intent to distribute marijuana.
Despite there being no ventilation system, the immigrants all appeared to be in good health inside the trailer. According to court documents, agents with the El Paso Border Enforcement Security Task Force found the immigrants in the trailer hiding behind commercial boxes.
"The people inside the trailer had a long trip ahead of them, and nothing assures us they would have arrived at their destination alive," said Waldemar Rodriguez, special agent in charge of HSI El Paso in a statement. "HSI and its law enforcement partners will continue to work tirelessly to dismantle human smuggling networks operating on the border."
KFOX reported agents found the truck because of a traffic violation and outstanding warrant. Harper was paid anywhere from $3,000 to $5,000 to smuggle the immigrants, according to KFOX.