22 Houston gangsters lured immigrants to US, forced them into prostitution, indictment says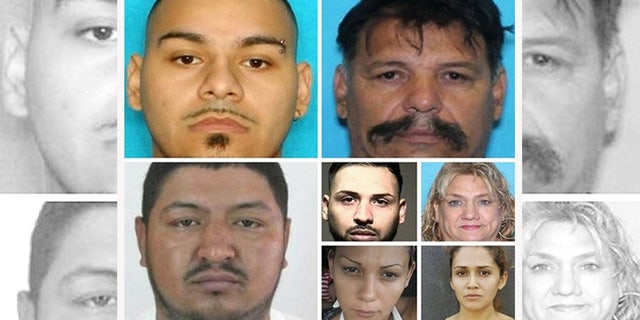 Federal officials in Houston announced 22 alleged gang members were indicted for sex and drug trafficking, the sale of firearms, human smuggling and stealing identities.
Federal prosecutors say a 37-count indictment was handed up earlier this month in Houston and partly unsealed Wednesday. The conspiracy-related counts are linked to sex trafficking, prostitution, transportation of immigrants, plus drug and weapons charges.
Houston FBI announced 13 of the alleged gang members were in police custody but nine were still being sought. The bureau tweeted photos of the suspects on Thursday.
The suspects were believed to be part of the Southwest Cholos crew, a violent street gang prevalent in Houston, the Houston Chronicle reported.
PENCE TELLS TEXAS SHOOTING VICTIMS 'WE WILL NEVER LEAVE YOUR SIDE'
Federal prosecutors alleged the violent gang members lured undocumented immigrants into the U.S., promising them jobs to pay off their debts, but forced them into prostitution. The gang reportedly forced the undocumented immigrants to work in brothels in Houston and Mexico.
The gang's brothel in southwest Houston was considered its "base of operations for methamphetamine and heroin peddling, gun trafficking and human smuggling," prosecutors alleged.
The gangsters reportedly threatened violence against the undocumented immigrants' families if they refused to work in the brothels.
The members also tattooed the immigrants with nicknames as a reminder of who they belonged to, the Houston Chronicle reported.
The gang's network of criminal operations extended from Texas' border with Mexico to popular resort city Cancun, the indictment stated.
MEXICAN CITIZEN EXECUTED IN TEXAS FOR DECADES-OLD KILLING VOWS HE 'WILL BE BACK FOR JUSTICE'
The Houston Chronicle reported the undocumented immigrants paid $40,000 a person to the violent gang in order to be transported into the U.S. Authorities reported they found 16 immigrants hidden in stash houses.
Assistant U.S. Attorney Adam Goldman requested the suspects be deemed a flight risk and be held in jail without bond. The suspects could face 10years on a minimum sentence of drug trafficking to 20 years if found guilty of human smuggling.
The District Attorney's Office of the Southern District of Texas released the names of the nine suspects still at large as: Juan Carlos Contreras-Cervantes, Raul Moreno Reyna, Melisa Bazan Dominguez, Anadalit Duarte, Bianca Stephanie Reyna, Claudia Jackely Soriano-Hernandez, William Alberto Lopez, Walter Lopez and Israel Juarez Sifuentes.
The Associated Press contributed to this report.