2 wrongfully convicted immigrants face uncertain future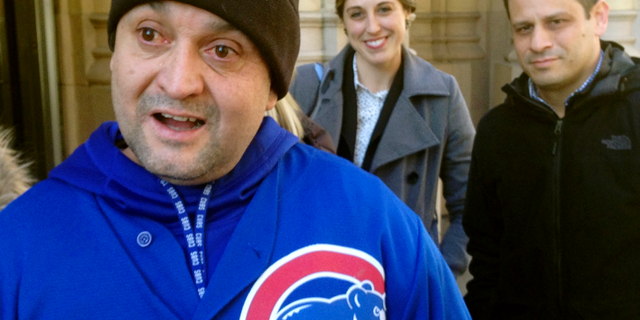 CHICAGO – Freedom was short-lived for two Mexican immigrants recently released after nearly 20 years in an Illinois prison when a judge ruled their confessions in a gruesome double-murder case were likely coerced.
Gabriel Solache and Arturo DeLeon-Reyes, who were freed in December, were immediately detained again. This time they're awaiting deportation proceedings from Immigration and Customs Enforcement because they entered the country illegally.
They are among several defendants who have walked free because their cases were handled by Reynaldo Guevara, a discredited former Chicago detective facing allegations that for years he beat and bullied defendants to obtain false confessions.
DeLeon-Reyes' attorney said he's not sure he even made it past the fence outside the jail.
"But I do know he did see the sun shine without handcuffs on and could see a park and all of those were a first for him in a really long time," said Andrew Vail, a Jenner and Block attorney who worked on the case for free.
DeLeon-Reyes and Solache's release adds a chapter to what has become one of the most troubling stories of the Chicago Police Department in recent history. The allegations of Guevara's brutality last year led to five overturned convictions. In previous years here have been other cases. One resulted in a 2009 jury award of $21 million — the largest award in in a wrongful conviction judgment at the time — to a man who spent 11 years in prison before his conviction was overturned.
Guevara has repeatedly invoked his Fifth Amendment right to remain silent when he's been called to respond to defendants' allegations in several cases. He did the same late last year at a hearing for Solache and DeLeon-Reyes, but this time prosecutors granted him immunity hoping his testimony would keep their convictions intact.
But Guevara's answer to every question was that he didn't remember and he refused to look at his previous police reports to refresh his memory, drawing the ire of Judge James Obbish, who in December threw out the confessions as he called Guevara's remarks "bald face lies." He called Guevara "a shell of what we would expect and quite frankly what I've come to know for the vast majority of the homicide detectives ..."
"He just tried to just weasel and wiggle his way out of a situation that he wasn't even in because the State gave him immunity," Obbish said.
And with that, the Cook County state's attorney had no case against DeLeon-Reyes and Solache because prosecutors never had any physical evidence connecting them to the crime. Still, the prosecutors have continued to insist DeLeon-Reyes and Solache are guilty.
Police arrested Solache, DeLeon-Reyes, and Adriana Mejia for the stabbing deaths of Mariano and Jacinta Soto in 1998. The married couple was attacked so Mejia could steal their baby, and she told police Solache and DeLeon-Reyes were her accomplices, according to court documents. Mejia claimed her accomplices committed the stabbings, but no fingerprints or DNA was ever found connecting the men to the slayings. The only clothes that had blood on them were Mejia's.
Mejia is serving a life sentence.
Solache and DeLeon-Reyes barely knew each other or Mejia before their arrests. They lived together as roommates, along with Mejia's husband and another man. They also didn't know the Sotos.
Solache and DeLeon-Reyes are taking different paths now.
DeLeon-Reyes, who was 25 when he immigrated in 1997, wants to stay in the U.S. for now but ultimately return home in the Mexican state of Jalisco, where his wife and five children are. He's opted for voluntary deportation, which an immigration judge granted, but the government plans to appeal to get an involuntary deportation. That designation that would make it more difficult for DeLeon-Reyes to legally come back to the U.S.
DeLeon-Reyes remains in custody at the Kenosha County Detention Center in Wisconsin as the government makes a decision on an appeal, due in about three weeks.
On Friday, Solache was released on bond while his immigration case progresses in the hopes he can stay in the U.S.
He walked out of the federal immigration services building wearing a Cubs jersey with the number 14 on the back — his number when he played soccer in Mexico. Also on the back was the name Jane Raley, the attorney at Northwestern University Law School's Center on Wrongful Convictions who represented Solache for more than a decade before her death in 2014.
"She is the one who made this possible," Solache explained.
His attorney, Karen Daniel, said when Solache was taken into custody, immigration officials tried to use his invalidated confession to keep him locked up even longer.
"They tried to use it to show he was a danger to the community," Daniel said.
___
Moreno reported from Milwaukee.